Enrico Uva
Overextended, uncivil in spirit and costly, elections in both the United States and Canada are ironically becoming insulting to both democracy and thought.
The 2011 Canadian election cost about $300-million - up from $198-million in 2000.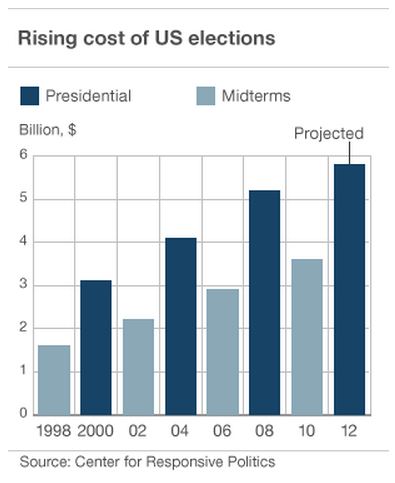 Per capita, that amounts to about $9. This year's American elections will cost an estimated 5.8 billion dollars or $18 per capita. And while Canadians have been flabbergasted by 50% election-cost inflation over a little more than a decade, the rate of increase south of the border has been a whopping 80%.
On a per capita basis it sounds like a trivial amount, but if the election costs could be cut in half, you could hire an extra 8000 nurses with that money and keep paying their salaries for as long as you have discounted elections.
Numbers aside, the damaging tone and theatrics of American elections was the topic of the editorial commentary on our national(CBC) news last night. I will let the eloquent Rex Murphy conclude this blog with thoughts I strongly agree with:
If you support Obama – you're for all that is progressive, open-minded and modern. You're a cosmopolitan savant. If you support Romney you're a patriot, helping to save American from blundering into socialism and bankruptcy. These are not points to be argued – they are declarations of identity – they are battle cries. Political parties in the US resemble huge clans insisting on utter fealty.
Because the system is calcified – there is only a sprinkling of people who are not in the corral of either party. In other words a splinter of the electorate is the pivot on which all politics must turn. Presidential campaigns are – inverted pyramids – not the most democratic design.
America's proper name is the United States – common will and shared purpose are its greatest strengths. Feverish, hyper-financed, and fixed-bayonet partisanship drains most of the meaning from that 'United' – it divides.
And did not a great man, a great American too, once warn about a "house divided."
For The National, I'm Rex Murphy.
http://www.bbc.co.uk/news/magazine-19052054
http://m.theglobeandmail.com/news/politics/election-costs-have-skyrocketed-in-past-decade/article1968015/?service=mobile