Enrico Uva
Over the years, economic and even medical considerations have influenced the composition of pennies. At one point they were almost pure copper, but presently copper is only a veneer used to maintain an illusory link to the past.
Why copper in the first place? Unlike iron, copper does not become more prone to oxidation in water. It even resists the action of certain acids such as vinegar and dilute hydrochloric acid. Copper does react with oxygen, but only gradually, leading to the darker and duller brown color of older pennies. But if kept in a pocket or piggy bank, pennies do not bind to hydroxide(OH
-
), sulfate(SO
4
2-
), or chloride
(Cl-)
to make the compounds of the patina found on statues and roofs.

In 1974 the United States toyed with the idea of an aluminum penny. Aluminum, like chromium and titanium, oxidizes quickly, but the shiny oxide coating clings tightly to the rest of the metallic structure, thus protecting it from further damage. Aluminum is also less expensive than copper. But although over 1.5 million pennies were minted, they were never released into circulation. Not only did copper and vending machine industries lobby against it, but pediatricians argued that if lodged in air passages or in the gastrointestinal tract,
aluminum pennies would be difficult to pick up.

In recent decades, the price of copper has risen substantially. In February 2012, copper was valued at about $3.80 US per pound, zinc at $0.96 and steel at $0.39. There are 16 ounces in a pound and 28.3 grams per ounce, so that minting a 3.24 gram 1990 Canadian penny would now cost $ 0.027 per penny in materials alone. By dramatically reducing the copper content, the mint has reduced the raw material cost of a 2012 Canadian penny to less than a cent.

The total cost of minting each penny, however, still exceeds a cent, regardless of whether the core is mostly steel, as it is in Canada and Europe, or zinc in the United States. (This is why only American pennies have remained nonmagnetic.)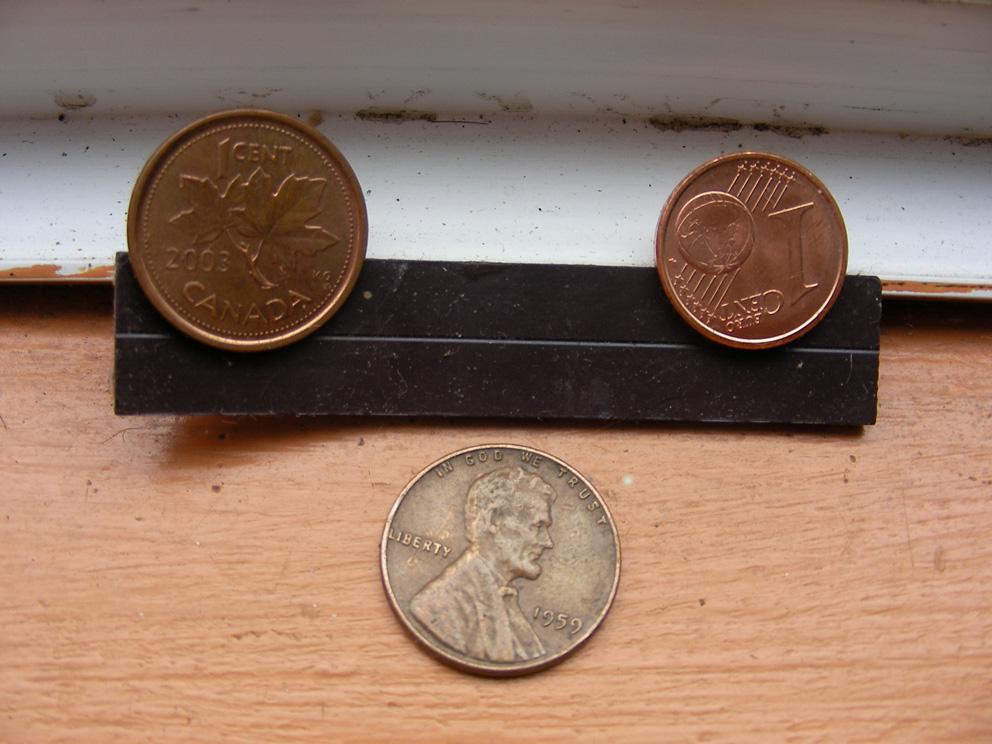 The high cost of minting pennies is just one of the arguments in favor of eliminating the penny. Due to inflation,
a
nickel today is worth what a penny was in 1970.
COUNTRY
YEARS
COMPOSITION
MASS (grams)

Canada
2000-present
94% steel
1.5% nickel
4.5% copper-plated zinc

2.35
1997-1999
98.4% zinc
1.6% copper plating

2.25
1942-1996
98% copper
2% tin-zinc mixture

3.24
United States

1982-present
97.5 % zinc
2.5% copper
(but less copper in plating)

3.1
1864-1982
95% copper
5% zinc or zinc-tin

3.1
Eurozone
copper plated steel

2.30



Sources for table

: various Wikipedia
articles

On the subject of elimination, aside from using a magnet, another way to reveal that copper only coats a Canadian penny is to expose it to concentrated nitric acid (
HNO3)
for a couple of minutes. Nitric acid contains both acid(H+) and an oxidizing agent(NO
3
-
), a combination that quickly converts copper metal into ions, leading to a deep blue solution. But the small percent of nickel in the steel gives the core longer protection against the corrosive action of HNO3. So what comes out is a silvery penny(just in color, of course!).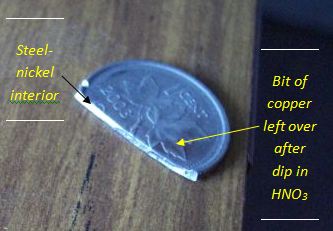 As an alternative, cutting a penny will also reveal that the inside is not brown. Another experiment suggested by an American reader:
cut a Lincoln penny with pruning scissors, then expose it to HCl. After a few hours, the zinc will all be gone, and the only thing left will be a thin copper outer shell.
Neither method is recommended since I'm not sure about the legality of destroying coins. But I wonder. If writers have poetic license to adulterate spelling, split infinitives and force rhymes, do chemists have a license to damage pennies in order to reveal their true composition?
Postscript
**
First I followed instructions and then I didn't to create brass-covered pennies and one gone completely awry!