Enrico Uva
1. There are only three economies in the world that collectively account for about 55% of the world's carbon dioxide emissions. Identify them and explain why.
The economies are China 23%, the United States 18%, and the European Union 14%.
Why? Well accounting for about 67% of the
$63 trillion world gross domestic product
are these same economies, and they are powered by fossil fuels. In light of global warming, this seems, on the surface, like a regrettable choice on humanity's part. But how could we have possibly not made use of such ubiquitous energy-intensive chemicals such as natural gas, petroleum and coal, especially when they have also been used as raw materials to make roads, plastics, dyes and pharmaceuticals?
2. If we look more closely at the top seven carbon dioxide producers (China, USA, EU, India, Russia, Japan, and Canada), which countries release the most carbon dioxide per dollar of GDP? And why?
They are India 0.97 kg/$GDP, Russia 0.72 and China 0.62. (Some middle eastern countries have even higher values but they are not among the top emitters.) India and China both rely heavily on coal as an energy source. Even though the United States generates half of its electricity from coal, it only accounts for 23% of the nation's total energy sources.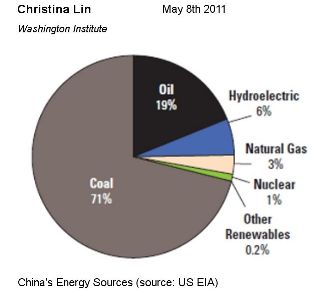 In contrast, coal supplies China with 71% of its energy. When coal is compared to other fossil fuels it releases the most grams of carbon dioxide on a kWh of energy basis. More specifically, coal releases from 715 to 940 g/kWh, depending on whether it's coking coal or lignite, but crude oil produces 610, while natural gas only releases 340 g/kWh.
In addition, China and India's industries use a greater proportion of energy compared to what's consumed by residences, services and transportation. Russia is not as dependent on coal, but it has the coldest climate
and the longest transportation routes
among the largest economies , rendering it less efficient.
Although it is true that these economies are doing next to nothing to curb their emissions, they are merely repeating what North America and Europe did during their industrial phases. China's cheap exports to the West, its appetite for Canadian raw materials and the fact that they own a lot of US treasuries all help Western economies. In that context, the better kg CO
2
/$GDP numbers of countries like Canada and Germany are self-deception.
3. But is global warming only about carbon dioxide and fossil fuels? How big is the contribution from other sources?
CH
4
(methane) and N
2
O(nitrous oxide) are more powerful greenhouse gases in that on a per molecule basis, they absorb more infrared than CO
2
and remain longer in the atmosphere. If you calculate the CO
2
mass equivalent of CH
4
and N
2
O, they are responsible for about 22% of the world's
greenhouse gas
total.

Recovery of methane for fuel purposes--recall that it generates only a little more than half of the CO2/kWh than petroleum--- might be a more efficient strategy than trying to persuade people not to eat meat.

4. The ozone problem was alleviated not just though legislation but by replacing CFC's with similar compounds that contain less chlorine. Similarly, the acidic precipitation problem became far less serious thanks to technology. Industry-adopted scrubbers that reacted sulfur dioxide(
SO2
) with lime(CaO) to produce calcium sulfate (CaSO4) which
is either sold as wall boards(drywall) or which end up as non toxic landfill. There's also a different technique that converts SO2 into sulfuric acid, which has long been one of industry's most useful chemicals. Can CO2 also be filtered?

Four years ago (in 2007) the Virgin Earth Challenge offered a $25 million prize to whoever could demonstrate a commercially viable design to remove greenhouse gases fro the air. A month ago(November 2011), from more than 2600 applications, 11 finalists were announced. These are Biochar Solutions, from the US; Biorecro, Sweden; Black Carbon, Denmark; Carbon Engineering, Canada; Climeworks, Switzerland; Coaway, US; Full Circle Biochar, US; Global Thermostat, US; Kilimanjaro Energy, US; Smartstones - Olivine Foundation, Netherlands, and The Savory Institute, US

Some of the technologies rely on an aqueous sodium hydroxide solution(NaOH(aq)) which reacts with CO2 from concentrated sources such as power plant emissions. The product is sodium carbonate(Na2CO3), commonly known as washing soda. There is also the possibility of pumping it underground and/or having it absorbed by certain minerals. The filtration approach is the most sensible and the most realistically attainable goal towards alleviating global warming. Changes in lifestyle and so-called wise consumer choices are not only less likely to materialize, but they seem to have more unpredictable spinoffs and undesirable effects than technology itself.

Sources:

United Nations Statistics Division, Millennium Development Goals indicators
http://earthtrends.wri.org/updates/node/274
http://www.duke-energy.com/environment/air-quality/sulfur-dioxide-scrubbers.asp
US Dept. of Energy, "U.S. Primary Energy Consumption by Source and Sector, 2008" (2009)