Enrico Uva
The 2011 Nobel Chemistry prize was awarded for the 1980's discovery of quasicrystals which have an ordered but aperiodic structure, a combination that did not fit well with atomic theory at the time. The physics prize was given for discovering that the universe's expansion is accelerating by using very distant t
ype IA
supernovae as standard candles of luminosity. These are clear-cut examples of prizes that reward fundamental science.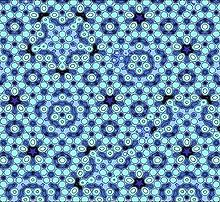 The Nobel committee only occasionally rewards more direct contributions to society. Of course there is a sizable overlap between what benefits science and what helps the greater whole of humanity. But just a few prizes are based more on the practical and beneficial side of research. Recent examples include:
(1)
the 2009 physics prize given for charged couple devices and fiber optic research.

(2)
the 2008 chemistry prize given for work on the green fluorescent protein (GFP), which is visible under blue and ultraviolet light. GFP has been used to study the growth of tumour cells and to detect pollutants in the environment.

Four years ago, in a Nature paper by
Christoph Bartneck1 & Matthias Rauterberg1
the authors who, not surprisingly, work in a department of industrial design, argued that physics
prizes should reward inventions and not deviate from the original intention of the prize. In the physical sciences, there has been a pronounced preference for discoveries ever since the prizes were first given out.
Between 1901 and 1939 inclusively, only two Physics prizes were given for inventions: wireless telegraphy and the cyclotron. In that same time period, in chemistry, the only invention rewarded was that of nitrogen fertilizer production, or at least the catalytic production of ammonia from air(nitrogen part) and hydrogen.



That so many chemicals have become vilified should not wipe out the benefits we have derived from them, especially if the original inventor had little to do with the subsequent misuse. No one has ever received a Nobel prize for any innovation in the petroleum, plastic or pesticide industries. The skewed preference of academia over industry will not change if no industrial scientist sits on the Nobel committee.

Sources:

Images taken from Wikipedia
http://www.nature.com/nature/journal/v448/n7154/full/448644c.html
http://nobelprize.org/chemistry/laureates/2004/press.html
http://www.britannica.com/nobel/table/chem.html