Enrico Uva
A coral reef is a limestone formation produced by the secretion of CaCO
3
from corals, algae, some mollusks, and other organisms. Although corals can be found in temperate areas, reefs and their diverse ecosystems cannot tolerate a temperature range below 18 to 22
o
C, so they are restricted to the shallow waters of the tropics.
The biological conversion of the sea's calcium and bicarbonate(HCO
3
-
) ions into
CaCO3
is not a spontaneous process. Energy is needed to continuously raise pH and shift equilibrium towards the formation of limestone: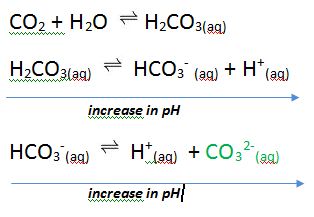 Aside from what's needed to "pump" out carbonate, much of the corals' energy demands come from the sugars and oils produced by zooxanthella, who in turn obtain carbon dioxide, phosphates, nitrates and protection from living within the corals.
If corals are environmentally stressed, the symbiosis can be compromised. As the number of zooxanthella declines, the pigments they produce also disappear. This is what's known as coral bleaching.
Aside from making bleaching appear like a one-way doomsday scenario, articles in the popular media often emphasize only one cause of bleaching: increasing ocean temperatures and acidification through increased levels of carbon dioxide. There is evidence that higher temperatures indeed stress corals through a higher production of oxidizing free radicals. Lower pH's indeed interfere with the carbonate producing equilibrium, but those are caused by higher levels of carbon dioxide. At one point scientists were exclusively using
degree-heating-weeks(DHW) to predict mass bleaching events
.
But further studies have shown that the coral picture has far more nuances than originally imagined. There is no fixed DHW threshold. Some coral types are far less prone to oxidation than others, and certain symbiotic partners can make them resistant to warmer waters.
An increase in photoprotective compounds such as fluorescent proteins may help corals deal with heat stress, preventing bleaching. This happens because the enzymes that protect against light-stress also act as antioxidants when radicals rise with
increasing temperatures. Bleaching also depends on non-thermal factors such as nutrient runoff, sedimentation, and overfishing.

A 2011-published study spanning 18 years investigated how thermal history affects bleaching susceptibility in individual corals of the central Pacific's Gilbert Islands during heat stress events.
Prior, related studies were based on artificial environments, so this one was the first of its kind. As the authors point out, the islands provided them with an ideal laboratory. Unlike the Tarawa Atoll,
the more northerly Butaritari Atol
l is not subject to temperature fluctuations of the
El Nino Southern Oscillation
.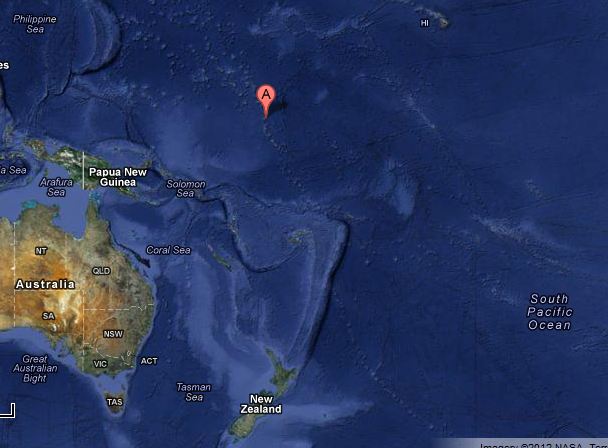 They found evidence that the stress-accustomed corals of the Tarawa group suffered little bleaching when average ocean temperatures increased during the course of the study. The Butaritari reefs enjoyed no such luck. However,
the heat-resistant ecosystems are not necessarily immune to other stresses, and it was suggested that priority be given to their protection.
In
a
Quirks and Quarks
interview, one of the study's authors, University of British Columbia's Simon Donner, mentioned that the heat-tolerant reefs seem to show less diversity of colour and fish. Strangely, there is no mention of this in their research paper.
Sources:
Historical Temperature Variability Affects Coral Response to Heat Stress
http://www.coralscience.org/main/articles/biochemistry-2/how-reefs-grow
http://www.mendeley.com/research/oxidative-stress-and-seasonal-coral-bleaching-1/
Columbia Encyclopedia