Enrico Uva
Assuming countries continue to comply with the 1989 (enforced)
Montreal Protocol
, the ozone layer is expected to recover in coming decades due to declining chlorofluorocarbon (CFCs)concentrations. Total recovery, however, is not predicted before 2050 or 2060. Although in the past year (from 2010 to 2011) the hole has increased in size by five million kilometers, for most of the last two decades, the hole seems to have stabilized, oscillating between 20 and 25 million square kilometers---about three times the size of continental United States.
But I'd like to focus most of this essay on some of the subtleties surrounding the chemistry and history of the hole. Before delving into details, I have to point out that it's still astonishing how many people with slight science-allergies still confuse the ozone hole with global warming. The only thing they have in common is that the freons that eventually release the atomic chlorine that catalyzes ozone destruction also happen to be minor greenhouse gases. But in the public imagination, it is incorrectly imagined that the extra ultraviolet that comes through the hole is what supposedly warms up the planet!
1. What is the hole, really?
Nowhere over Antarctica is there a complete absence of ozone(O
3
) in the upper stratospheric layer. Prior to 1979, concentrations of always exceeded 220 Dobson units(DU). The hole" is the area where the concentration dips below that threshold; the lowest seasonal minimum ever recorded was 92.3 DU in 1994.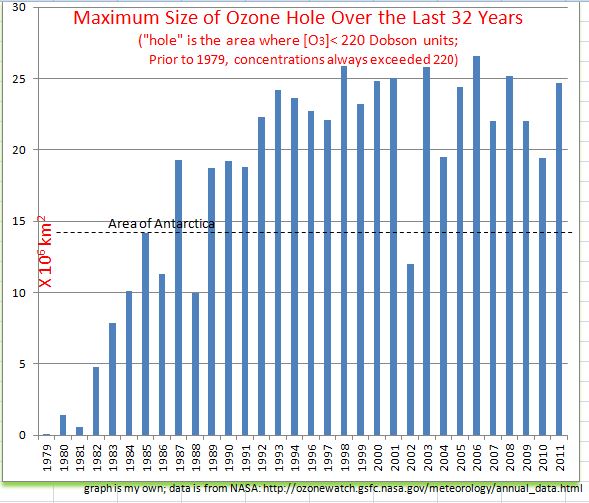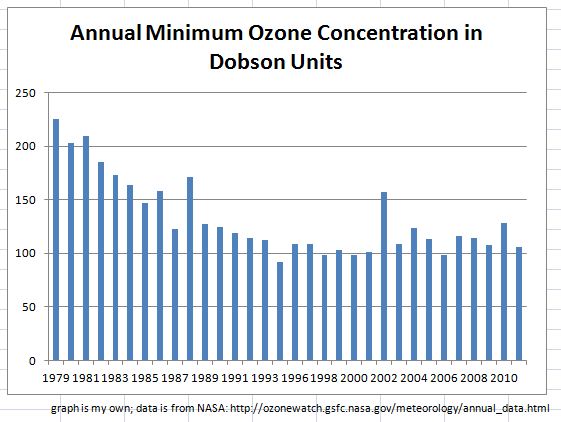 2. What technological device played a pivotal role in linking freons to ozone depletion?
In 1957, James Lovelock of Gaia-fame invented the
electron capture detector
, which when mounted on a gas chromatograph, is capable of measuring extremely low concentrations of atmospheric gases in parts per trillion. By comparing the emissions of freons(CFC's)to those actually present in the atmosphere, it became clear that they were not being broken down. But interestingly, as Lovelock started to turn from inventor to theorist, he erroneously predicted in 1970 that the presence of CFCs in the air was completely innocuous.
3. Why did it take so long to discover the hole, and how did computer models screw things up?
The depletion should have become apparent before 1985 since measurements revealed that minimum concentrations kept dipping almost consistently from a 225 DU low in 1979 to as low as 163.6 DU in 1984. But in the same way that scientists had incorrectly assumed that CFCs were harmless, they assumed that the data was too low to be real, and they placed faith in computer models that predicted ozone to remain intact.
4. Why is ozone depletion most pronounced over Antarctica?
After CFC's release atomic chlorine it attacks O
3
and generates O
2
and a compound of chlorine and oxygen (ClO). ClO in turn attacks atomic oxygen which is needed to recycle ozone. This forms molecular oxygen and regenerates atomic chlorine, which is then free to attack more ozone.
Fortunately for the rest of the planet, ClO reacts with another pollutant, nitrogen dioxide to generate
ClONO2
. But a drain-like atmospheric effect called the polar vortex forms over Antarctica during their winter. This serves to remove nitrogen dioxide from the stratosphere above the southern pole. In addition, polar stratospheric clouds convert ClONO2 and HCl into nitric acid and atomic chlorine.

5. What ozone depleting chemical was not included in the Montreal Protocol?

Nitrous oxide (N2O) was not included. This byproduct of agricultural fertilizer forms NO (nitrogen monoxide) which like atomic chlorine also catalyzes the destruction of ozone gas. Ultraviolet light also dissociates a small percentage of water into hydroxyl radicals(OH.) which can also attack O3. Early computer models were not programmed with these effects and using only the so-called Chapman reactions based on the recycling abilities of diatomic and monoatomic oxygen, they predicted an excess of 30% of ozone. Interestingly many freshman college books also incorrectly ignore the pivotal role of hydroxyl radicals in forming acid rain, attributing it instead to simpler reactions that only occur with high concentrations of oxygen. (If you burn sulfur over a Bunsen burner and test the fumes with wet pH paper, sulfuric acid will not form*. Only when you place burning sulfur in an oxygen- filled flask is there an immediate reaction.)

6. Why were people skeptical after Rowland and Molina linked CFCs to ozone depletion?

Some surmised that
hydrochloric acid (
HCl) from volcanic emissions and subsequent formation of Cl played a more important role than freons. But the skeptics were proved wrong when studies of the El Chicon and Pinatubo eruptions of 1982 and 1991, respectively, revealed that the HCl emitted never made it out of the troposphere, in the same way that HCl from swimming pool chlorine poses no threat to ozone.

* As a reader(D.Potter) pointed out, a weaker acid (bisulfite ion) will form instead.

SOURCES:


Wikipedia http://en.wikipedia.org/wiki/Ozone_depletion
NASA: http://ozonewatch.gsfc.nasa.gov/meteorology/annual_data.html
A transcript kindly sent to me by
Jim Kasting of Pennsylvania State University