Enrico Uva
People on highways interpret speed limits as a minimum velocity. On certain stretches of the Florida interstate 95, the speed limit is 70 miles per hour or 113 kilometers per hour (31 m/s). But several times, except for the odd truck carrying a herd of elephants, we were the only ones actually moving at 70 mph.
The gaps between us and other cars kept increasing. Yes, the lanes are wide and numerous. The road is flat and likely to be free of ice for at least 364 of 365 days. It's also not a good idea to lag too far behind the rest of traffic. But none of this makes driving fast rational.
1. Why do People Drive Fast?
The primary reason seems to center around the issue of time. I found data for New York State. When using a personal vehicle, the average length for a long distance trip was 488 miles.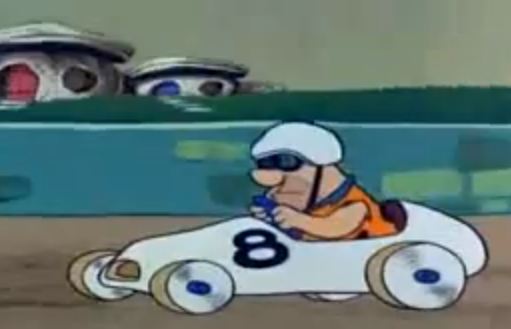 Depending when the data is collected, specific location and other variables, this number will vary across the country. But assuming immediate access to a highway, no construction and no traffic tie-ups, on average the total maximum time "saved" on a 488 mile-trip by going 70 mph instead of 60 mph is about 1 hour and 10 minutes.
Of course the term "wasted" is very subjective. If that extra hour is spent talking to a spouse or child, listening to music or to an audio book--- or better still, simply thinking, how is it ill-spent? The idea for the polymerase chain reaction came to Kary Mullis while
he was driving and his girlfriend was asleep.
But many people on the interstate are not driving on long distance trips, especially when the highway approaches major urban centers, where most of the speedsters probably live. If they're traveling to a workplace 5 to 20 miles away, by going ten miles above a 65 mph speed limit, they are saving a whopping 0.6 to 2.4 minutes!
Since most drivers as novices once feared a loss of control when moving too fast, going over the speed limit and maintaining the car on the road gives them a sense of mastery over the elements. The competition-thrill and the joy of having no other drivers ahead of them gives drivers added incentive for having a heavy foot on the accelerator. A sense of power is accentuated even at constant speed by the following kinematics reality: if the driver is moving at 75 mph instead of 65 mph, the time it takes to catch up to a 55 mph driver is cut to half.
*see end of article for the simple mathematical details.
2. Reasons to Drive Slowly

Anyone who's been to driving school has been reminded that speeding is risky. Moving at 75 mph instead of 55 mph gives the car (77/55)
2
or almost twice as much kinetic energy, something of consequence in case of a collision. Since the work needed to stop a vehicle is related to its kinetic energy, breaking distances and speed are not associated though linear relationships either.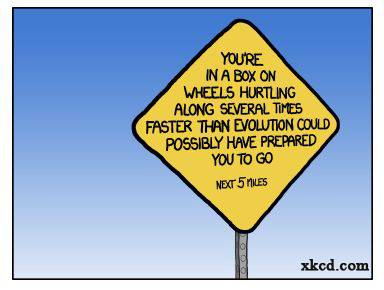 According to this
braking calculator
, on dry asphalt 145 feet are needed to bring a 55 mph car to a stop. At 75 mph, 269 feet are required---again almost a factor of 2.
On snow, the distances mushroom to 337 and 627 feet, respectively! But the need for speed digs a ditch between thought and action, not too differently from the way high-speed, violent impacts persist in the NFL and
NHL because fans enjoy them
.
Another reason to keep an unleaded foot on the gas pedal centers around fuel efficiency. The minimum speed at which the highest gear engages is where the least amount of fuel is consumed per mile traveled. Minimizing fuel consumption is great for both pocket books and the environment. For most car models efficiency peaks close to 55 mph. In 2009,
Consumer Reports
found that fuel efficient car models experience, on average, a 12% drop in fuel economy at 65 mph and a 25% drop at 75 mph.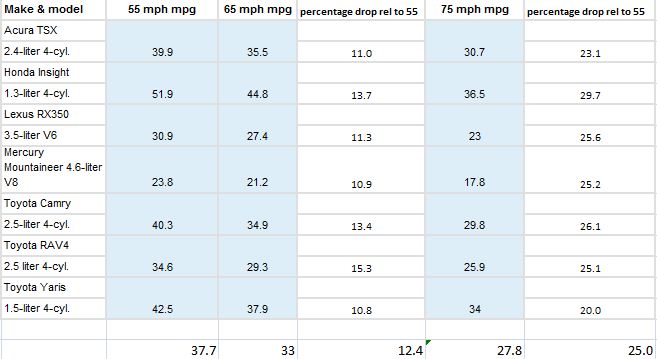 Driving more slowly also widens central vision while increasing peripheral vision, both of which help prevent accidents. Although it's not advisable for a driver to engage in sightseeing while driving, moving slowly also gives passengers a better chance to enjoy the scenery and take photographs. Finally there's less noise generated at lower speeds: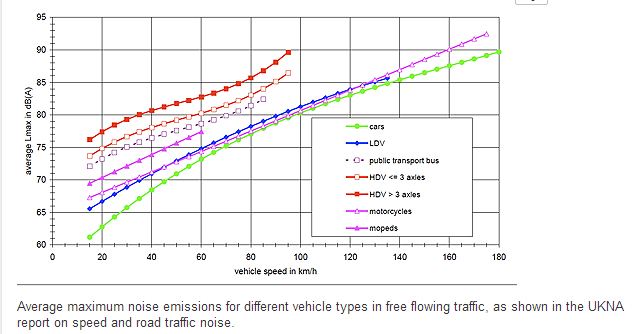 * A-------------------------------B---------------------------C
Let x = the separation distance between driver A and driver B.
and let C represent the position where A catches B. Let y = distance from B to C.
With no acceleration:
y = VBt
x + y = VAt.
Substituting:
x + VBt = VAt.
x = VAt -VBt
x = t(VA-VB )
t = x/(VA-VB )
so if the difference in velocity is doubled, the time to catch the slower car is cut to half.
Sources
:
https://www.dot.ny.gov/divisions/policy-and-strategy/darb/dai-unit/ttss/repository/trend%20highlight%202_28_06.pdf
http://www.transportenvironment.org/sites/default/files//docs/presentations/2005/2005-01_clean_car_seminar/2005-01_p6_reducing_noise_pollution_from_cars_brouwer.pdf
http://www.roadtraffic-technology.com/features/feature126199/feature126199-3.html