News Staff
Could a new bag squash a new bug?
A new medical bag designed to replace
'outdated and unsafe' portable medical bags could transform treatment around the world, says its manufacturer. A study found a third of its outdated predecessors carry the MRSA bug.
In 2008,
East Riding of Yorkshire (NHS ERY) introduced the first of its Neighbourhood Care Teams (NCT) to enable patients with long-term illnesses to receive treatment at home. NCTs now provide over 450,000 patient contacts each year.


Dr. David Swann of the University of Huddersfield, discovered 55 percent of medical bags used by nurses are never cleaned and only six per cent are cleaned once a week. So he is set to commercialize his award-winning '21st century' nursing bag and says it could dramatically reduce the risk of MRSA infection in communities globally. He said the problem is exacerbated by the lack of any official cleaning specification to which nursing bags used outside hospitals must conform.
Traditionally, bags used by community nurses for home visits, often simply rucksacks, are made of absorbent textiles and can hide harmful bacteria in pockets and folds in the material, making them difficult to clean. Swann's design was awarded highly commended status in the NHS Innovation Challenge. The bag is made out of non-permeable polypropylene white plastic, with easy-to-clean draws and a hard surface that can be transformed into a hygienic lay-down treatment area for clinical tools. Currently, healthcare workers on home visits are forced to improvise as they work off the floor, from a table or off a chair.

The bag is free of fasteners, zips and pockets that can harbor bacteria and inhibit cleaning. The simple fact the bag is white necessitates frequent cleaning.


Swann called on policymakers to introduce a cleanliness standard to minimize infection risk as health providers move a greater number of hospital treatments into patients' homes in the face of spiraling demand and costs. Diary analysis shows community nurses in the UK visit up to 17 patients a day, mostly for wound care.

Swann said, "The aim of my design is to reinvent community healthcare and deliver a world-class patient experience in non-hospital settings."

Nurses who trialled Swann's design gave the bag an average score of 80 per cent for usability, appearance and functionality, with one saying the bag made her feel like a 'proper nurse'.

Globally more than one billion people receive medical care outside hospital settings, according to the World Health Organization. The World Patient Safety Alliance says patients have a one-in-ten chance of contracting MRSA in hospitals but outside hospitals the risk can increase to one in four. It attributes the rise to the contamination of medical devices, with healthcare workers facilitating the spread of disease.

Swann said, "At a time when health services are turning increasingly to care in the community to save money, the 21st century nursing bag is an attempt to inspire a paradigm shift in home healthcare that guarantees patient safety, nurse productivity and service quality."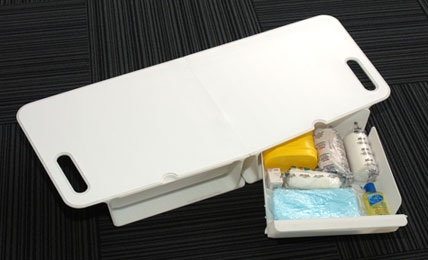 Swann medical bag. Credit: University of Huddersfield

He applied ultraviolet-sensitive gel to the bag's surfaces to evaluate how design features inhibited or aided hand cleaning. Any areas missed were made visible when illuminated by a UV torch. Swann also ran Lego Serious Play workshops – where participants work through imaginary scenarios using 3-D Lego brick models – for nurses and specialists to simulate daily practice and tailor the design accordingly.

He hopes a design focused on infection control highlights to health policymakers the need for a cleanliness standard that governs the use of medical bags by doctors and nurses in the community. At present the only standard in force regulates paramedic bags.

"We must take all available measures to preserve patient safety. Without clear guidelines on medical bags we are letting communities down," he said.

Following global interest and support from InnovationRCA and Second Mile, the 21st century nursing bag is set to be commercially available in January 2013.