Josh Witten
There has been a fight brewing Down Under over vaccinations. Areas of Australia have dangerously low vaccine compliance rates leading to the recurrence of completely preventable diseases like whooping cough (pertussis).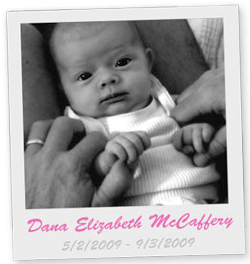 Despite its innocuous name and its own claims to be "pro-choice", the Australian Vaccination Network (AVN) is definitively anti-vaccination. The AVN is just as willing as our own American
anti-vax zealots
, like
Jenny McCarthy
, to lie (knowingly or not) and spread misinformation in order to drive down vaccine use. The result in Australia has been an increase in the rates of whooping cough, resulting in the deaths of 17 children under a year of age since 1993, three in the past year including the death of 4 week old
Dana McCaffery
in March 2009.
Dana McCaffery was too young to be innoculated against whooping cough. She was dependent for her safety on herd immunity to keep whooping cough out of her community. Thanks in part to the misinformation spread by the AVN, that community failed Dana.
Many people reading this will be too young to understand the fear that vaccine preventable diseases like whooping cough created in parents. This complacency is one of the side effects of the success of vaccination programs. Thanks to the not-universally-pleasant stories of my Grand Dad, who was a small county doctor in southeastern Ohio, my family has maintained familiarity with the fear and horror that these once common conditions could generate. Whooping cough inspired fear among his patients and with good reason.
After one to two weeks, the coughing develops into uncontrollable fits,
each with five to ten forceful coughs, followed by a high-pitched
"whoop" sound as the patient struggles to breathe in afterwards (paroxysmal
stage). Coughing fits are commonly followed by vomiting, and can lead
to malnutrition. Fits can occur on their own or can be triggered by
eating; they usually occur in groups, with multiple episodes every hour
around the clock. This stage lasts two to eight weeks, and sometimes
longer. . .Infection in newborns is particularly severe, with a death risk of up to 3%, often caused by severe pulmonary hypertension.
-Wikipedia (Pertussis)

Whooping cough is very difficult to treat, with treatments focused on mitigating symptoms and reducing infectivity. To be blunt, low vaccine compliance not only killed Dana, but made this innocent child suffer, needlessly. I know the heart-wrenching pain of a parent when my own daughter has been unable to sleep at night due to a simple cold. I cannot even imagine the suffering that the McCaffery's have endured. My heart bleeds for them on a daily basis.
Make no mistake about it, anti-vaccination zealots have gone on record declaring that deaths like Dana's are
acceptable losses
in the fight against the evils of vaccinations. Public health policies are the result of cost-benefit analyses, which includes some concept of acceptable cost for a benefit. Vaccination can precipitate, in extremely rare cases, negative side effects, which in a public health debate are greatly overshadowed by the benefits. What is the difference between these two points of view?
Evidence
. The costs and benefits of vaccines are well defined scientifically. Vaccine advocates actually have data to show that the course of action that they are supporting is the one that does the most good for the most people. By "the most good", I mean the single greates life saving medical innovation ever. The anti-vaccinationists may be well intentioned, but they are simply making up their evidence. And killing babies.
Responsible people are fighting back. The AVN is currently under investigation for spreading misleading propaganda. Kevin Rudd, the prime minister of Australia, has joined the
Dana McCaffery Facebook group
. And, now, businessman Dick Smith has
sponsored an ad
to bring this issue to the forefront of public attention.
*Thanks to
Phil Plait
at
Bad Astronomy
for pointing out this ad. Phil has been covering this situation from the begining. So, I would encourage you to visit
Bad Astronomy
to get the whole story.