Josh Witten
swashbuckle, v., 1) to buckle one's swash; 2) to be awesome in the manner of a puma/ninja/Don Juan hybrid
- Let's pretend this is from a really, really cool dictionary

Whoever said economics is the "dismal science" obviously has never taken a
biochemistry
course, nor have they read the work of
Peter T. Leeson
, BB&T Professor for the Study of Capitalism at the Mercatus Center at George Mason University and
marginal hottie
according to his students (average hotness of 0.1-0.6 on a -1 to 1 scale). With financial doom lurking around every corner, who wants to read even more about economics? No one I know when it comes to John Maynard Keynes, deficit spending, and leveraged assets. Fortunately, Leeson writes about pirates. While recognizing that criminal enterprises, like piracy, are disruptive to society, Leeson argues that criminal organizations face the same pressures to maximize profit and minimize costs as legitimate businesses. Below are three Leeson lessons on the economics of being a pirate that I will certainly be applying to my own future piratical career (you know when the whole science thing inevitably doesn't work out for me).

Rational Eccentricity
(from
Pi
rational
Choice: The Economics of Infamous Pirate Practices
)
Rules of Swashbuckling #1: Jump off of stuff and laugh.
Pirates are iconic odd balls. They've taken the eccentric knob and turned it to 11. Hell (pun intended), that'
s why we love them. Johnny Depp even earned his first Academy Award nomination for his portrayal of the pirate Captain Jack Sparrow. I know what your are thinking. What about Edward Scissorhands? Please, this is the same Academy that gave Best Picture to
Shakespeare in Love
instead of
Life is Beautiful.
Blackbeard appeared armed to the teeth with smoking cannon fuses stuck under his, looking like the Devil himself.
Pirates murdered, tortured, destroyed valuable cargo, and burnt ships. In short, they did everything they could to appear insane.
There were a number of reasons for this appearance to be real: isolation of small groups from the rest of society, absence of the opposite sex, and copious alcohol (British sailors, like modern college students) received a pint of rum per day). Leeson suggests that pirates might have been crazy like maritime foxes.
Once in control of a target ship (plunderee), pirates (plunderers) gain profit by acquiring both loot (cargo/money/personal effects) and information (government patrols/trade lanes). They incur cost if the plunderees successfully hide or destroy loot/information. Costs are minimized by maximizing the probability of plunderees cooperation.
How does one guarantee that your targets are compliant? According to Leeson, acting like a sadistic madman just chomping at the bit to
keelhaul
some plunderees was a good place to start. The key was to make the plunderees think that if they cooperated they would be unharmed and if they resisted they would suffer gruesomely. Pirates actively promoted this barbarous and insane image through the media of the day. Apparently, it worked so well that there is no evidence that Edward Teach (aka, Blackbeard), perhaps the most legendarily feared pirate of all time, killed even a single person in his career until the battle that took his life. Could many tales of pirate misdeeds and misbehavior, including the blood-curdling stories of the pirate
l'Ollonais
:
. . ."being possessed of a devil's fury, ripped open one of the prisoners with his cutlass, tore the living heart out of his body, gnawed at it, and then hurled it in the face of one of the others".
-Alexander Exquemelin in The Buccaneers of America (1678)

simply be pirate marketing?

Hoist the Black Flag
(from
Pi
rational
Choice: The Economics of Infamous Pirate Practices
)
Every normal man must be tempted at times to spit on his hands, hoist the black flag, and begin to slit throats.
- HL Mencken

With the groundwork laid to maximize cooperation once a plunderee was captured, pirates could turn their attention to reducing the cost of the chase. Capturing another ship on the high seas presented pirates with several potential costs.



Damage to plunderee ship (potential upgrade/source of spare parts/transport for loot)



Damage to pirate ship (repairs/effect on speed and maneuverability reduce ability to evade capture and catch new plunderees)



Damage to pirates (there is evidence of disability payments in pirate articles of agreement for disability payments, you know, for little stuff like amputations)



From the perspective of a potential plunderee, it was not difficult to recognize that your ship was being pursued by a heavily armed and manned vessel. If the pursuer was a ship naval warship or an official privateer, the plunderee could expect to be treated relatively well (i.e., they would stop with the maiming and killing) as soon as someone screamed "QUARTER!", no matter how much resistance was put up. Navies extended this courtesy to enemy crew in the expectation that the favor would be returned if the situations were reversed.
Pirates, on the other hand, could not expect any kindness on their part to be reciprocated by the authorities. Piracy was a capital offense. This put the plunderees in an awkward position. The authorities could not make a murdering pirate any more dead than a non-murdering pirate and "hanging by the neck until dead" was already a bad way to go. So, the only motivation the pirates had from the law was to eliminate witnesses.
Once it escalated into a murder one beef for all of 'em after they
killed the first two guards, they didn't hesitate. Pop guard number
three because... what difference does it make? Why leave a living
witness?
- Al Pacino as Vincent Hanna in Heat

Because the pirates had no legal reason to spare the crew, the pirates could present the plunderees with a set of options that served to minimize the costs incurred by the plunderers:



Try to get away, by fight, flight, or both (Succeed - Everyone lives, cargo and ship are safe/Fail - Everyone dies, cargo and ship seized)



Give up immediately (Everyone lives, cargo and ship seized)



In his writings, Leeson presents historical evidence that potential plunderees generally went for option 2.
But, how was a plunderee to know if they were being chased by a naval warship of a pirate? Pirates nee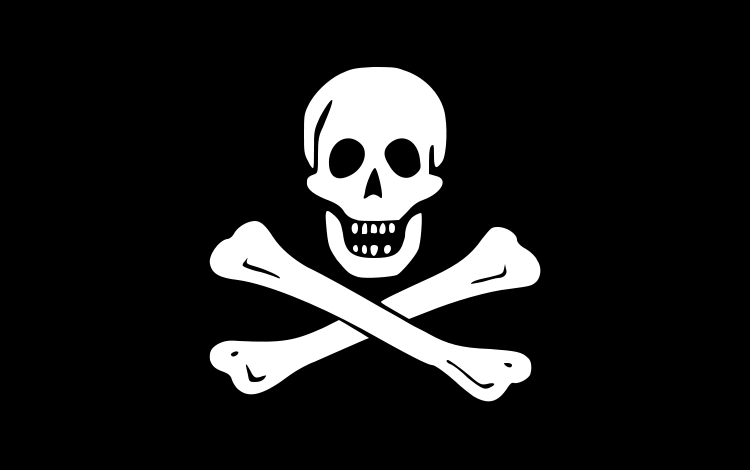 ded a brand. Historically, the black flag indicated that no quarter would be given. Despite the common view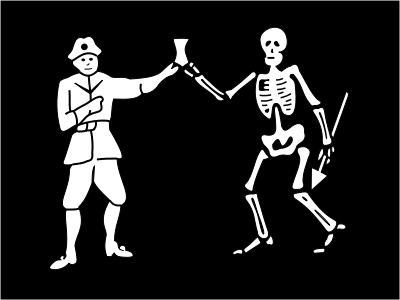 today of the Jolly Roger with a white skull and
crossbones on a black field, most pirates used this simple black flag. Some pirates, however, personalized the pirate brand and hoisted their own versions of the Jolly Roger. Regardless of the style used, the Jolly Roger announced to the potential plunderee that they were pursued by pirates who had nothing to lose by massacring their prey. Pirates were quite happy to take their plunder by intimidation, not force. The profit margins were better.
Progressive Pirates
(from
The Invisible Hook: The Law and Economics of Pirate Tolerance
)
Yo ho, yo ho, a pirate's life for me.
We're beggars and blighters, ne'er-do-well cads,
Drink up, me 'earties, yo ho.
Aye, but we're loved by our mommies and dads,
Drink up, me 'earties, yo ho.


- Yo Ho ( A Pirate's Life for Me) lyrics by Xavier Atencio

Scourge of the Seven Seas. Check. Disruptive to trade and society. Check. Prophets of enlightened social policy. What? Long before the Emancipation Proclamation or the Civil Rights Act, some pirates were setting black bondsmen free and enlisting them in their crews as free, equal members entitled to a full share of their takings, a policy Leeson calls "equal pay for equal prey."
Were these pirates enlightened social Utopians? That would be unusual for a profession based on armed robbery. What would cause some pirates to use racial equality policies (others participated in the slave trade and some did both)?
Leeson argues that the pirates were no more and no less racist than the average person of their time. Instead, he proposes that the unique ownership structure of pirate ships made it beneficial to free slaves. On an average pirate ship, there was very little difference in the number of shares of loot due to the captain (2) and the regular sailor (1). All the officers were democratically elected. This stood in stark contrast to the pay structure and hierarchy of military and merchant ships. Pirate ships were effectively employee owned enterprises. Leeson suggests that this structure was created by the pirates in their own self-interest as a reaction to the naval and merchant organization that they had fled.
Keeping a black sailor as a save provided a profit to the entire ship due to the free labor. That profit was divided relatively evenly among the free sailors, unlike on a plantation or a merchant ship where almost all the profit would go to the owner.
Enslaving a black sailor also presented several costs, the largest of which was the risk of desertion. A slave had no incentives to remain loyal to the pirate crew and could have a reasonable expectation of escaping prosecution for piracy (along with the death sentence) because, as a slave, they were not responsible for acts they were forced to commit. An escaped slave, with no reason not to go to the authorities, increased the chance of capture of the pirate crew by the authorities. Capture almost certainly meant execution; and executions do not get divided into shares.
A freed slave, however, was tied to the pirate crew by self-interest. In many cases, the loss of the small profit from a slave's wage free work was worth the elimination of the risk posed by the slave escaping, potentially leading to freed slaves being included as regular members of pirate crews. Self-interest and democracy promoting a social good, that almost sounds like something Adam Smith would write. I guess that is why Leeson calls it the
Invisible Hook
.
Yo-ho, Yo-ho, Yo-ho

Always remember to pillage BEFORE you burn.
-Ben Witten

Leeson leaves us with an interesting picture of our favorite villains. Through these new eye-patches Blackbeard transforms from a barbarous, blood-thirsty fiend into an egalatarian, image savvy entrepreneur looking to avoid a fight.