In 2005, part of a hidden drawing beneath Leonardo Da Vinci's "Virgin of the Rocks", commissioned for an altarpiece in 1483, was found, and scholars working on the National Gallery in London treasure have uncovered more.
Artist's reused materials, if there were errors, changes or they changed their minds, and now thanks to infrared and hyperspectral imaging plus X-ray fluorescence to find zinc in the drawings, we know something about what Da Vinci had originally planned. Using infrared reflectography in 2005, they discovered a preliminary drawing of the Virgin Mary - different from the final result.
And now they have revealed Leonardo's earlier design for the angel and baby Christ.
Credit: National Gallery in London
"Now for the first time Leonardo's initial designs for the angel and the Infant Christ can be seen, showing significant differences to how they look in the finished painting,"
they write
. "In the abandoned composition both figures are positioned higher up, while the angel, facing out, is looking down on the Infant Christ with what appears to be a much tighter embrace."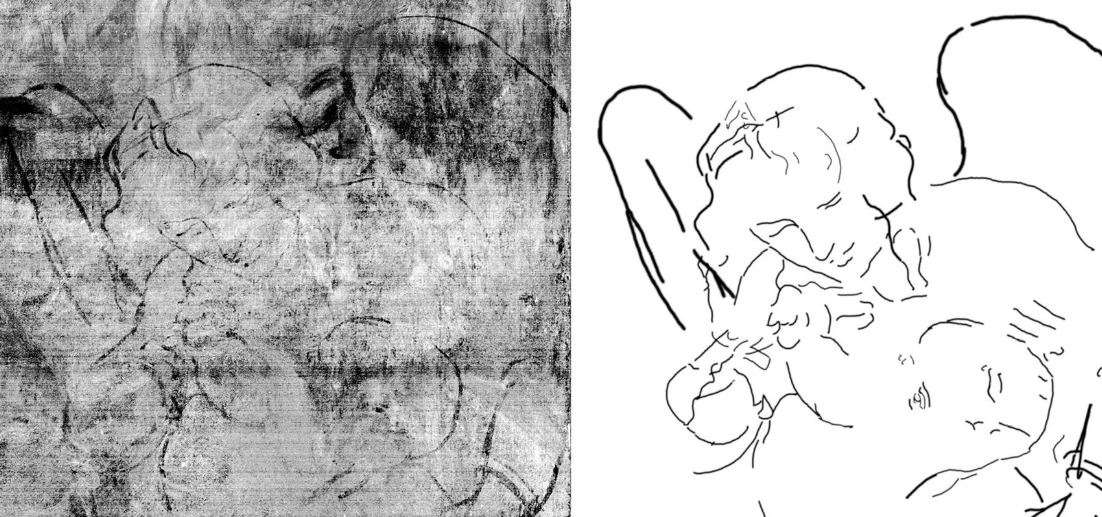 Left: Detail derived from mathematical processing of the hyperspectral imaging data, revealing the drawing for the angel and baby of the first composition under the landscape at the right side of the painting. Right: Tracing of the underdrawing lines in the hyperspectral image to give a clearer image of the angel and baby.