If you had a choice, would you rather set your own hours or work around your schedule around family needs, or would you prefer being forced to go into an office where a corporate manager applies constant pressure to do more in the same amount of time and you have to pay for babysitting?
Many people opt for the former, and the "gig economy", where you set your own schedule, has been a boon for them. But fewer employees mean less payroll taxes and California has $500,000,000 in unfunded liabilities, primarily for government pensions and debt, so if a company is not paying payroll taxes to the state, California's recent policy actions have shown they have to go.
Governor Gavin Newsom unofficially put San Francisco in lockdown two months ago and the rest of the state soon followed officially. Unemployment claims rocketed into the millions. The economy is in freefall. Even 'gig economy' participants were impacted - people are not taking Uber to the airport if they can't fly - and California government has found that to be the perfect time to run Instacart, DoorDash, and others out of the state. During his press conference today, Governor Newsom announced
the state is suing the very companies delivering food so that people can stay home
.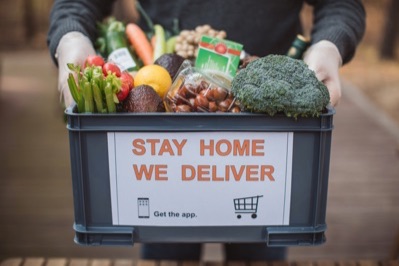 This past weekend California residents were everywhere because Governor Newsom's poor judgment caused him to close parks, and instead they were out in neighborhoods. Now he will force more people into grocery stores because delivery will be illegal.
Who is that going to harm? The poor, many of whom already can't get meaningful employment and get public assistance. Uber, Lyft, Doordash, GrubHub, Instacart, etc. provide ways for them to get additional money and live a life with more dignity than they have relying on government. It allows them to work around the schedule of their families, something important for single parents.
Government's "shelter in place" rules impacted them a lot more than America's 22,000,000 government employees, all of whom get paid to stay home.
University employees are even clamoring to get paid the same but not have to go into classrooms
next year.
The Februray-March in-person
survey
, augmented by an online-only version after the lockdown in California occurred, is not representative and there are numerous confounders - participants were paid after being recruited through apps, which presumably did not have to go through an IRB because it is sociology and not science.(1) Their respondents were 56 percent immigrants and mostly male. Half worked 40 hours per week. Public assistance was used by 15 percent. More than half of respondents unsurprisingly claim to have lost 75 percent of their income.
The authors use the poorly-designed survey to claim the gig economy is making people more vulnerable - so California is right to run them out of the state - yet their own methods show the opposite. If respondents were as vulnerable and making as little as the sociologists contend, 85 percent would have taken $20 to answer questions. Instead,
only 15 percent of grocery app drivers
could be bothered to take the survey even though it would make them $20 for a few minutes of time.
The market would already have driven up the wages if driving was not worth doing. California knows that market forces show that is not the case, so the only logical conclusion is California government does not feel like they are getting a big enough cut of the revenue.
So California filed a lawsuit against them. During the coronavirus pandemic.
They want to run the services allowing people to stay home and avoid spreading coronavirus out of the state. Only government could think that makes any sense.
NOTE:
(1) Funny stat was participation levels. Grocery delivery drivers are only paid to deliver so they had little interest while 70 percent of ride share drivers will happily drive you around and answer your questions for $20.