A new paper
claims that treatment with the antiviral drug remdesivir does not speed recovery from COVID-19 versus placebo in hospitalized patients who are critically ill.
But this needs to be interpreted with caution.
The Lancet
rushed to publish these results but they are from just 237 adults from 10 hospitals in Wuhan, and China has fooled the world before. The study was funded by the government's Chinese Academy of Medical Sciences Emergency Project of COVID-19, it was not independent.
They also stopped the trial early because, they claimed, they could not find enough cases after March 12th - among a billion Chinese people - thanks to the outstanding efforts of the Chinese government to contain coronavirus, which reads like it came straight from General Secretary of the Communist Party of China Xi Jinping 's press department. The same government which suppressed genomic analyses of SARS-CoV-2, put journalists and doctors in jail for discussing coronavirus in January and February, and even had the World Health Organisation repeating their party line that SARS-CoV-2 could not be transmitted from human to human.
Remdesivir was developed by Gilead Sciences, Inc. - an American company, which is another prestige problem for the Chinese government - for Ebola but since it can stop a virus from multiplying it was tried in various flavors of coronavirus like SARS, MERS, and SARS-CoV-2 and it worked. Case studies also reported benefit in severely ill COVID-19 patients which have spurred clinical trials.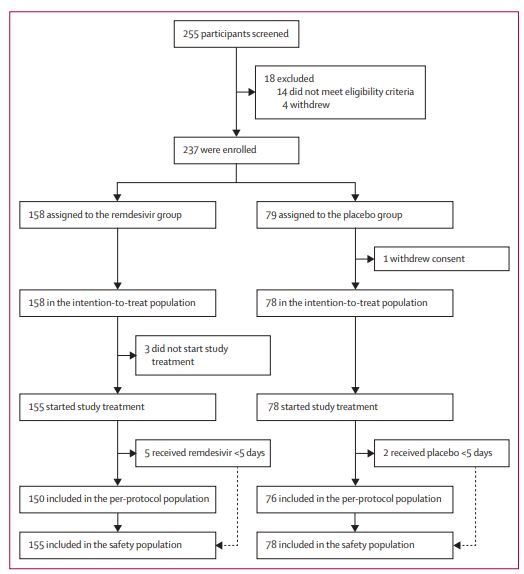 The Chinese government could not find 216 more cases after March 12th, if you believe that
In the Chinese government trial, patients received lopinavir–ritonavir, interferons, and corticosteroids. 158 patients got 200mg of remdesivir on the first day followed by 100mg on days 2–10, or placebo infusions (79 patients) for all 10 days. Deaths within 28 days were 14 percent (22/158) in the remdesivir group versus 13 percent (10/78) in the placebo group. Patients treated with remdesivir within 10 days of illness onset had lower mortality - 11 percent (8/71) of patients dying versus 15 percent (7/47) receiving placebo.
So remdesivir was safe but they could not see a statistically significant benefit over placebo. However, the data are suspect. They claim they used patients between February 6th and March 12th, 2020 and ended the trial early because they could not find 216 more after that. Which no epidemiologist believes, not even those at our National Institute of Environmental Health Sciences, and they will usually believe any statistic if it is critical of medicine.
It may not matter what China says, remdesivir is being used on compassionate grounds and that will provide real data even lacking a placebo. Unapproved drugs are allowed when no other treatment is available but the paperwork is overwhelming and in the U.S. people are often dead before they get through the system, but recent "right to try" initiatives to streamline the cumbersome process have new life now that the CDC and FDA have shown they are bureaucracies whose chronic inefficiencies were hidden because there had not been a pandemic in the U.S.
"This is not the outcome we hoped for, but we are mindful that we were only able to enrol 237 of the target 453 patients because the COVID-19 outbreak was brought under control in Wuhan. What's more, restrictions on bed availability resulted in most patients being enrolled later in the disease course, so we were unable to adequately assess whether earlier treatment with remdesivir might have provided clinical benefit," said Professor Bin Cao from China-Japan Friendship Hospital and Capital Medical University in China.