University of Cincinnati (UC) neuroradiologists believe a brain imaging approach that combines standard magnetic resonance imaging (MRI) scans with specialized contrast-enhanced techniques could lead to more effective diagnoses in patients with difficult-to-detect blood clots in veins of the brain.
James Leach, MD, reports these findings in the April issue of the American Journal of Neuroradiology. This is the first study to correlate the clinical importance of data gleaned from standard MRI scans and detailed contrast-enhanced imaging techniques in patients with chronic thrombosis (blood clots) in veins of the brain.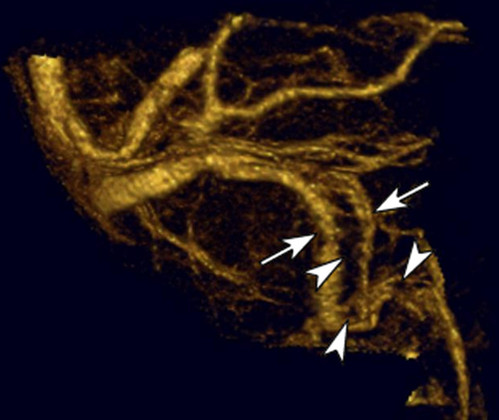 This image from a high detail contrast-enhanced MR venogram shows areas of restored blood flow (arrows) and areas of persistent blood clot (arrowheads). Credit: University of Cincinnati.
"Detailed contrast-enhanced techniques produce more defined distinctions between abnormal and normal veins in the membrane around the brain," explains Leach, a neuroradiologist and associate professor at UC and principal investigator of the study. "Evaluating patients using a combination of imaging tools could give us a better understanding of the disease process."
Researchers say these specialized techniques--known as contrast-enhanced magnetic resonance venography--produce better defined pictures of difficult-to-detect abnormal flow areas within vessels of the brain. These areas may be important warning signs of blocked blood flow that require medical intervention. The enhanced imaging tools can also help identify areas where flow has been partially reestablished after a vessel blockage has occurred.
Leach and his team used these contrast-enhanced techniques, in combination with standard MRI scans, to evaluate a small subgroup of patients who have clinical and imaging features consistent with what is called partially recanalized chronic dural sinus thrombosis. This is a condition in the membrane surrounding the brain where blood flow has been partially reestablished in a previously blocked vessel.
Research has shown that cerebral veins partially or fully blocked by a blood clot--with or without treatment--can open spontaneously, open partially or remain blocked. These blockages can stop blood flow to the brain and increase the patient's risk for stroke and other neurological episodes such as chronic headache.
"In cases where the patient has an ongoing partial or full blockage," Leach explains, "the blood clot 'organizes' into a more solid lesion, forms connective scar tissue and can develop small vessels in an attempt to restore blood flow. This was very difficult to diagnose correctly using previous techniques."
"We don't fully understand why this happens, but being able to recognize the imaging characteristics of the condition earlier may help us explain patient symptoms--like persistent headache--that otherwise cannot be explained," he adds.
With additional research, Leach believes, this combined imaging approach may one day help physicians formulate better treatment regimens and possibly prevent more serious medical complications for certain patients.
"If we can more easily characterize the patient's problem as chronic instead of acute, it could alter the way we prescribe anticoagulation (clot-busting) drugs to treat the symptoms," says Leach. "Further research is needed to see if this can effectively impact patient therapy clinically."
Collaborators in this study include Michael Wolujewicz, MD, and William Strub, MD, who are both affiliated with the UC College of Medicine and University Hospital.
Source: University of Cincinnati.