When man made his way out of Africa some 60,000 years ago to populate the world, he was not alone: He was accompanied by the bacterium Helicobacter pylori, which causes gastritis in many people today. Together, man and the bacterium spread throughout the entire world. This is the conclusion reached by an international team of scientists led by Mark Achtman from the Max Planck Institute for Infection Biology in Berlin, Germany. The researchers also discovered that differences developed in the genetic makeup of the bacteria populations, just as it did in that of the various peoples of the world. This has also given scientists new insight into the paths taken by man as he journeyed across the Earth (Nature online, February 7, 2007).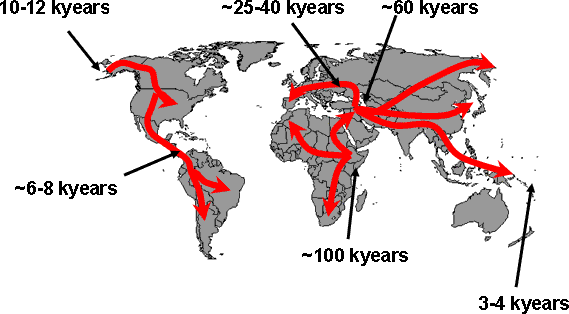 The migration paths taken by modern man as he colonized the world. 60,000 years ago, Homo sapiens left his original home in East Africa - taking the bacterium Helicobacter pylori with him. The abbreviation kyears stands for thousand years.
Image: Max Planck Institute for Infection Biology
More than half of all human beings are infected with Helicobacter pylori, a bacterium that can cause stomach ulcers. Like humans, the bacteria are also split up into numerous regional populations. A team of scientists led by Mark Achtman at the Max Planck Institute for Infection Biology, François Balloux at the University of Cambridge and Sebastian Suerbaum at Hanover Medical University have found signs of the parallel evolution of man and H. pylori. Using mathematical simulations, the researchers demonstrated that H. pylori must have left East Africa at the same time as man - around 60,000 years ago. This astonishing conformity was uncovered by scientists when they compared the nucleotide sequencing patterns in the DNA of human and H. pylori populations.
In order to characterise the individual populations, the scientists employed the principle of isolation by distance. According to this principle, the genetic distance between two populations has a linear correlation with the length of the migration paths taken since they were separated. "It's actually quite logical," explains Dr. Mark Achtman, "because in the time that elapses after a population leaves its point of origin, the number of mutations in its genetic makeup continually increases."
However, while man was spreading throughout the world, human populations had to repeatedly pass through what scientists call genetic bottlenecks: when a population shrinks, the gene pool also becomes smaller. These losses in genetic diversity linger, even when the population starts once again to increase in number. Since the Homo sapiens populations usually had to pass through several genetic bottlenecks on their way across the globe, their genetic diversity declined the further they journeyed from their origin in East Africa.
Scientists have now uncovered similar signs of historical population migration in the genetic makeup of H. pylori. However, the genetic diversity of the bacteria is larger than that of man. This paves the way for researchers to use H. pylori data to work out the migratory movements of modern man. "The parallels between the spread of man and of H. pylori are truly astonishing," says Achtman. "This bacterium could help us attain further information on aspects of human history that are still hotly disputed today if we analyzed H. pylori in conjunction with human data." For example, after leaving East Africa, the H. pylori population spread through limited localities in southern Africa, West Africa, Northeast Africa, India and East Asia. The genes of bacteria isolated in Europe, for instance, reveal influences from Central Asia - an indication that human immigrants came to Europe from Asia.
Original work:
Bodo Linz, Francois Balloux, Yoshan Moodley, Andrea Manica, Hua Liu, Philippe Roumagnac, Daniel Falush, Christiana Stamer, Franck Prugnolle, Schalk W. van der Merwe, Yoshio Yamaoka, David Y. Graham, Emilio Perez-Trallero, Torkel Wadstrom, Sebastian Suerbaum, Mark Achtman
An African origin for the intimate association between humans and Helicobacter pylori
Nature Online, February 7, 2007
This story has been adapted from a news release issued by Max Planck Society.