Antarctic sea ice reached a new record high extent this year, covering more of the southern oceans than it has since scientists began a long-term satellite record to map sea ice extent in the late 1970s.
The Antarctic sea ice extent exceeded 7.72 million square miles (20 million square kilometers) for the first time since 1979, according to the National Snow and Ice Data Center. The ice extent stayed above this benchmark extent for several days. The average maximum extent between 1981 and 2010 was 7.23 million square miles (18.72 million square kilometers).
The new Antarctic sea ice record reflects the diversity and complexity of Earth's environments, said NASA researchers. Claire Parkinson, a senior scientist at NASA's Goddard Space Flight Center. The upward trend in the Antarctic is only about a third of the magnitude of the rapid loss of sea ice in the Arctic Ocean, just as the temperatures in some regions of the planet are colder than average, even in our warming world.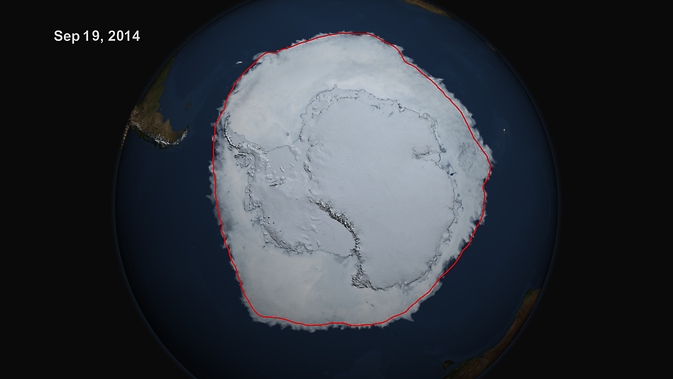 The red line shows the average maximum extent from 1979-2014. Credit: NASA's Scientific Visualization Studio/Cindy Starr
"The planet as a whole is doing what was expected in terms of warming. Sea ice as a whole is decreasing as expected, but just like with global warming, not every location with sea ice will have a downward trend in ice extent," Parkinson said.
Since the late 1970s, the Arctic has lost an average of 20,800 square miles (53,900 square kilometers) of ice a year; the Antarctic has gained an average of 7,300 square miles (18,900 sq km). The single-day maximum extent this year was reached on Sept. 20th, according to NSIDC data, when the sea ice covered 7.78 million square miles (20.14 million square kilometers).
Credit: NASA Goddard Space Flight Center/Joy Ng
This year's five-day average maximum was reached on Sept. 22nd, when sea ice covered 7.76 million square miles (20.11 million square kilometers), according to NSIDC.