Two California children who had not had contact with pigs recently recovered from infections with "unique" swine flu/swine influenza viruses, raising concern about possible human-to-human transmission and putting health authorities on alert, the Centers for Disease Control and Prevention (CDC) reported.
The two cases were in a 10-year-old boy in San Diego County and a 9-year-old girl in neighboring Imperial County, but they are apparently unrelated, the CDC said in an Morbidity and Mortality Weekly Report (MMWR) Dispatch report April 21st. 
"The viruses from the two cases are closely related genetically, resistant to amantadine and rimantadine [the two older flu antivirals], and contain a unique combination of gene segments that previously has not been reported among swine or human influenza viruses in the United States or elsewhere," the CDC report says. 
The lack of any known exposure to pigs in the two cases increases the chance that the children contracted their infections from other people, the CDC said. The agency advised physicians to consider animal influenza virus infections in patients who recently were in the two California counties or had contact with pigs. 
The CDC says it received reports of 12 human swine flu cases from December 2005 through January 2009, an increase from the previous long-term average of about one case every 1 to 2 years. The "vast majority" of such cases do not lead to human-to-human transmission, but all need to be investigated thoroughly, the agency states.
From 2007  -
New Swine Flu Virus Supports 'Mixing Vessel' Theory
A new influenza virus discovered in Missouri pigs has a combination of genes from avian and swine flu viruses, supporting the theory that pigs can serve as a mixing vessel for flu viruses and a potential source for a human pandemic strain.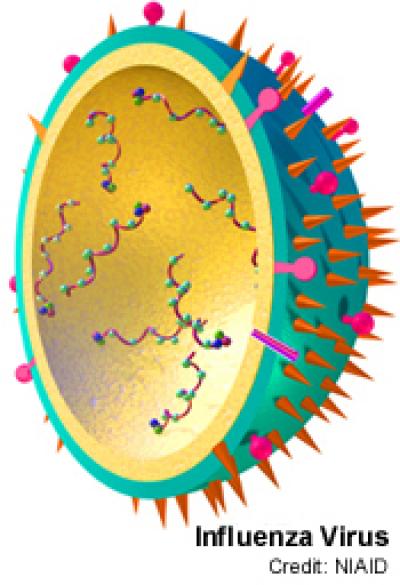 Diagram of the influenza virus. Credit: NIAID
Illnesses began in March
The 10-year-old boy fell ill with fever, cough, and vomiting on Mar 30, according to the CDC. He was taken to a clinic, where he received symptomatic treatment, and he recovered in about a week. He had not received flu vaccine this season. The boy and his family said he had had no exposure to pigs. 
Initial testing at the clinic indicated an influenza A virus but was negative for human subtypes H1N1, H3N2, and H5N1, the report says. A sample was sent to reference laboratories, which were unable to identify the subtype. The CDC received a sample Apr 14 and identified the virus as swine flu/swine influenza A/H1N1. 
The boy's mother had a nonfebrile respiratory illness in the first few days of April, and his 8-year-old brother was sick with a cough and fever on Apr 11, but no respiratory samples were taken during their illnesses. 
In the other case, the CDC received an influenza specimen on Apr 17 that the Naval Health Research Center in San Diego had sent as a type A virus that couldn't be subtyped, according to the report. The CDC identified the virus as a swine flu (swine influenza A/H1N1) isolate the same day. 
The sample came from the 9-year-old girl, who got sick with a cough and fever (104.3ºF) on Mar 28, the report says. She was treated at an outpatient clinic with antibiotics and an antihistamine, and she recovered uneventfully. The girl reported that she had visited a fair with a pig exhibit about 4 weeks before her illness but that she had not seen the pigs, and she reported no other exposure. 
The girl's 13-year-old cousin, who was living with the family, had a flu-like illness 3 days before she got sick, and her 13-year-old brother had similar symptoms on Apr 1, the CDC reports. But neither was tested for flu while they were sick. 
So far, no epidemiologic link between the two cases has been found, nor have any other cases been identified involving the new strain, the report says. Case and contact investigations by the county and states health agencies are under way. 
A new combination of genes
The viruses from the two patients are similar, and the majority of their genes, including the hemagglutinin gene, are similar to those of swine flu viruses that have circulated in US pigs since about 1999, the CDC reports. But the genes for the neuraminidase (NA) and matrix (M) proteins are similar to corresponding genes of Eurasian swine flu viruses. 
"This particular genetic combination of swine influenza virus segments has not been recognized previously among swine or human isolates in the United States, or elsewhere based on analyses of influenza genomic sequences available on GenBank," the report states. 
While there is no formal system for monitoring what viruses circulate in US swine, viruses with this combination of genes are not known to be circulating in the country, the report adds. 
Testing is under way to learn whether the two viruses are susceptible to the neuraminidase inhibitor drugs oseltamivir and zanamivir. 
The CDC advises that clinicians should consider animal as well as seasonal flu virus infections in patients who live in or who visited San Diego or Imperial County or were in contact with sick people from either county in the week before their illness onset. It also urges clinicians to take a nasopharyngeal swab in such cases and to contact their state or local health department to arrange for testing at a state public health lab. 
Reference:  CDC. Swine influenza A (H1N1) infection in two children—Southern California, March-April 2009.
MMWR Dispatch 2009 Apr 21;58
By Robert Roos, Center for Infectious Disease Research&Policy, Academic Health Center, University of Minnesota