The camera and lens that Wally Schirra and Gordo Cooper carried into space during their Mercury Program flights is going up for auction in a few weeks.
Wally Schirra, a known camera enthusiast, said the Hasselblad camera they used was held in highest regard by photographers for its superior engineering, craftsmanship, and top-of-the-line quality. He reportedly purchased the Hasselblad 500c camera at a Houston photo supply shop in 1962, and brought it back to NASA for mission use preparation.
The Mercury astronauts were all engineers so they got together with United States Air Force in a camera laboratory and modified the Hasselblad with a 100-exposure film container, an aiming device mounted on the side, and modification of the camera surface. The original metal facing was repainted black to minimize reflections.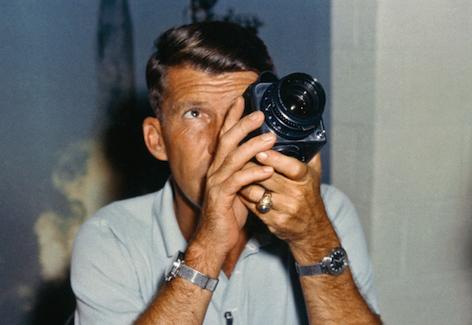 Following the camera's initial success with Schirra on MA-8, Colonel Cooper used it on the next Mercury mission, MA-9, May 15th and 16th, 1963, when he flew farther and faster in space than any man had ever gone - the last man to go into space alone. And he took those first instantly recognizable images of Earth.
Are you a Mercury program fan? Who isn't? If you'd like a piece of early NASA memorabilia, the auction for the camera is scheduled to take place on November 13, 2014 at 3:00 PM ET,
at RR Auction's Boston Gallery
. That won't be the only thing. They will also have 600 lots in a Space and Aviation Autograph and Artifact Auction, which will begin on November 13th and close on November 20th.