Oklahoma State researchers are developing a state-of-the-art propulsion system for the United States Defense Advanced Research Projects Agency.
If successful, the propulsion system will be featured in sophisticated unmanned aircraft small enough to fit into a soldier's pocket.
"What we want the infantrymen to be able to do is pull a pack of six or so out of their pocket and have them ready for use," Jamey Jacob, an associate professor of mechanical and aerospace engineering, said. The aircraft would be used for surveillance purposes and allow soldiers to inspect hostile areas before moving through them.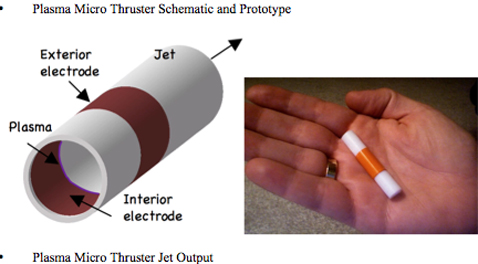 Credit: Oklahoma State University
Jacob and his team have been working on the project since the end of August.
"It's a new propulsion technology to be used by micro and nano-unmanned aerial vehicles, or UAV," Jacob said. "By micro, we mean smaller than a foot, and by nano, we mean smaller than six inches."
Jacob's project would provide a significant upgrade over the UAV equipment currently available to soldiers.
"What is currently in the field is the Dragon Eye UAV," Jacob said. "It is three feet in span, and it has some drawbacks.
"It doesn't work well inside and it doesn't work well in urban areas. We want ours to be able to work well in urban situations."
Jacob said development so far has been successful.
"The concept is good," Jacob said. "We are still too early in the development process to determine to what level it will work, but we are confident we can make this work."
Ceran Ozturk, a graduate student studying mechanical and aerospace engineering, said working without moving parts is a challenge in the projects.
"We are basically creating a thruster with no moving parts," Ozturk said.
Ozturk said having no moving parts is necessary for smaller engines.
"Our project is perfect for small scaled usage," Ozturk said. "It will work in an engine for a small vehicle because building an actual engine that small with all the moving parts is almost impossible.
Toni Shaklee, OSU Assistant Vice President for Sponsored Research, said OSU has had a healthy relationship with DARPA during its history.
"Oklahoma State University has a long and very successful history working with DARPA," Shaklee said. "It has funded several research projects in both the College of Engineering and the College of Arts and Sciences. We are very proud of the partnership OSU has been able to develop with the government defense agency and hope to continue it for many years to come."
Aerospace technology students at OSU are working on two other DARPA projects.
"One of our projects is to keep an aircraft in the air for five years without landing," Jacob said. "The other is to put an aircraft in a ballistic missile, which would serve as a launching system, the aircraft would fly out of the missile and provide us with immediate surveillance anywhere in the world within 45 minutes."
- Ted Bado
Reprinted with permission from The Daily O'Collegian