The type of robot chosen as a personal companion by participants at the University of Hertfordshire Science and Technology Research Institute's (STRI) Showcase next week will very much depend on their personality type.
This is a recent finding from Professor Kerstin Dautenhahn's team at the university's School of Computer Science, who took the robot out of the laboratory last year and had it living in a house nearby so that they could observe how it interacted with humans.
People with extroverted personalities will choose more human-looking robots with facial features and a human-like voice, results say, while introverted people tend to prefer mechanical-looking robots, more like a box on wheels with a metal head. Japanese men will head straight for this Actroid DER2 fembot: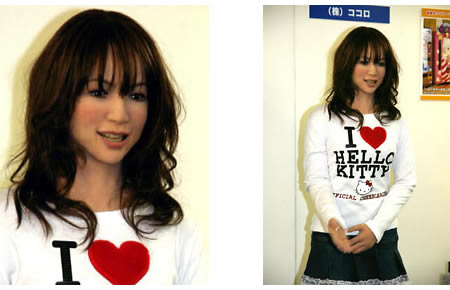 Seriously? A "Hello Kitty" shirt? Courtesy: Kokoro, a Sanrio Group company.
A member of the team, Dr Mick Walters conducted his PhD project on the investigation of people's perceptions of different robot appearances and an assessment of how they would like to be approached by the robot and in what manner.
"Our research allowed us to identify two broad demographics of people who have preferences," said Dr Walters. "It seems that there are those who prefer an unobtrusive robot and then others who want a cheerier presence."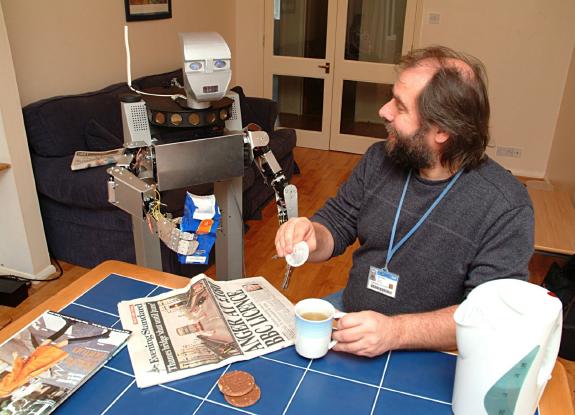 Mick Walters with his "social companion". We think he needs to visit Japan.
"After years of investigating Human Robot Interaction with hundreds of participants, we have looked at proxemics, an area which has not been studied before, and condensed all of this information into an empirical framework," added Professor Dautenhahn. "Also, rather than producing a robot and then finding an application for it, we have involved people in the development of these People Bots right from the start."