Giant blue and humpback whales migrate across the ocean to breed and give birth in waters where predators are scarce.
A new analysis of the fossil bed in the Berlin-Ichthyosaur State Park (BISP) in Nevada's Humboldt-Toiyabe National Forest suggests that nearly 200 million years before giant whales evolved, school bus-sized marine reptiles called ichthyosaurs may have been making similar migrations to breed and give birth together in relative safety.
Nevada is east of the very large state of California, and the study offers a possible explanation why at least 37 of these marine reptiles came to meet their ends in the same locale.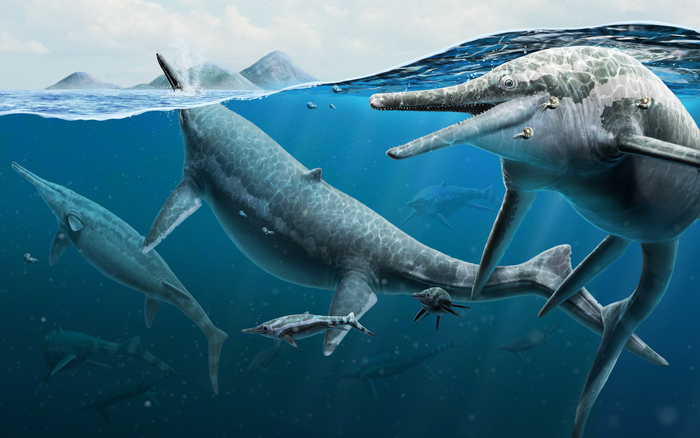 A
rtistic rendition of adult and young of the ichthyosaur species Shonisaurus popularis. Credit: Gabriel Ugueto
Over the years, some paleontologists have proposed that BISP's ichthyosaurs—predators resembling oversized chunky dolphins which have been adopted as Nevada's state fossil—died in a mass stranding event such as those that sometimes afflicts modern whales, or that the creatures were poisoned by toxins such as from a nearby harmful algal bloom. The problem is that these hypotheses lack strong lines of scientific evidence to support them.
To try to solve this prehistoric mystery, the team combined newer paleontological techniques such as 3D scanning and geochemistry with traditional paleontological perseverance by poring over archival materials, photographs, maps, field notes and drawer after drawer of museum collections for shreds of evidence that could be reanalyzed.
Although most well-studied paleontological sites excavate fossils so they can be more closely studied by scientists at research institutions, the main attraction for visitors to the Nevada State Park-run BISP is a barn-like building that houses what researchers call Quarry 2, an array of ichthyosaurs that have been left embedded in the rock for the public to see and appreciate. Quarry 2 has partial skeletons from an estimated seven individual ichthyosaurs that all appear to have died around the same time.
"We present evidence that these ichthyosaurs died here in large numbers because they were migrating to this area to give birth for many generations across hundreds of thousands of years," said co-author and Smithsonian National Museum of Natural History curator Nicholas Pyenson. "That means this type of behavior we observe today in whales has been around for more than 200 million years."