In countries that have embraced centralized energy and migrated away from individual cooking with dung or wood, both public health and the emissions have improved. So why not pay for all developed countries to switch?
The World Bank wanted to do that half a decade ago
but it became political; countries like the U.S. agreed only to contribute if they used solar or wind, which are not viable even in America much less in a poor nation. It was another case of wealthy countries with plenty of energy passing their guilt along to Africa and Asia.
A new analysis presented at the European Society of Cardiology looks at the more direct impact of direct fossil fuels and wood for energy. They're surveys, so no more valid here than they are in social psychology or the five Harvard T.S. Chan School of Public Health papers declaring miracle foods or new cancer links every month using bad epidemiology, but it's common sense that fewer local energy emissions would mean better cardiovascular health.
341,730 adults aged 30-79 years recruited from ten areas of China in 2004 to 2008. Participants were interviewed about how often they cooked and the main fuel used at their three most recent homes. The researchers then estimated the duration of exposure to solid fuels. The analysis was restricted to those who cooked at least weekly at their three most recent residences and did not have cardiovascular disease. Information on mortality up to 1 January 2017 was collected from death registries and hospital records.
The average age of participants was 51.7 years and three-quarters were female. Nine out of ten had spent at least 20 years in their three most recent residences. Overall, 22.5% of participants had primarily used solid fuels for cooking for 30 years or more, 24.6% for 10-29 years, and 53.0% for less than ten years. Among the latter, 45.9% had never used solid fuels in their most recent three homes and 49.1% had switched from solid to clean fuels during this period.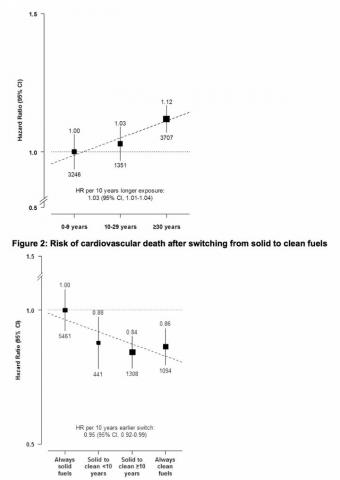 Credit: European Society of Cardiology
During 3.4 million person-years of follow-up, 8,304 participants died from cardiovascular disease. After adjusting for education, smoking and other cardiovascular risk factors, each decade of exposure to solid fuel was associated with a 3% higher risk of cardiovascular death (95% confidence interval [CI] 1-4%, p=0.0002). Participants who had used solid fuels for 30 years or longer had a 12% greater risk of cardiovascular death than those who had used them for less than ten years (95% CI 3-21%, p=0.0045) (see figure 1).
Compared to persistent long-term use of solid fuels, adopting clean fuels was associated with a lower risk of death from cardiovascular disease. Each decade earlier switch from solid to clean fuels was associated with a 5% lower risk of cardiovascular death (95% CI 1-8%, p=0.0067). Participants who had changed for ten years or longer had risks comparable to persistent clean fuel users.
Dr. Derrick Bennett, study author from the University of Oxford,
said
, "Our study suggests that people who use solid fuels for cooking should switch to electricity or gas as soon as possible."
Absolutely true. With a new administration in America that hasn't spent $50 billion on solar subsidies they don't want to see fail, will the U.S. listen to science this time?