Though an entire $2 billion industry has been built scaring people about the modern world (which has promoted a $35 billion supplement market and a $110 billion Organic industry) we're in a Golden Age.
Even the poorest people can afford food, what were once booms and busts of famine and plenty have now leveled off, poverty declines are ahead of U.N. goals, and even centralized energy in developing countries, which could help a billion people, is attainable if western states stop telling poor nations they can only get World Bank help if it's not coal, natural gas, or nuclear.
And we can prevent cancer for the first time.
Human papillomavirus (HPV) causes nearly all cervical cancers and some cancers of the vagina, vulva, penis, anus, and oropharynx.
CDC's Morbidity and Mortality Weekly Report (MMWR)
shows that from 2012-16 there were an average of 43,999 HPV-associated cancers were reported each year, an estimated 34,800 of those were likely caused by HPV, and 32,100 (92%) cancers were attributable to HPV types targeted by the 9-valent HPV vaccine and could be prevented.
The 9-valent HPV vaccine (9vHPV) is available to protect against oncogenic HPV types 16, 18, 31, 33, 45, 52, and 58 as well as nononcogenic types 6 and 11 that cause genital warts.
In the early days of the vaccine the big win was expected to be with cervical cancer declines but in all states except Texas
we will instead see reductions in oropharyngeal cancer
; that is the most common cancer attributable to the vaccine types right now. With 19,000 cases for
oropharyngeal cancer
it is nearly 50 percent higher than cervical.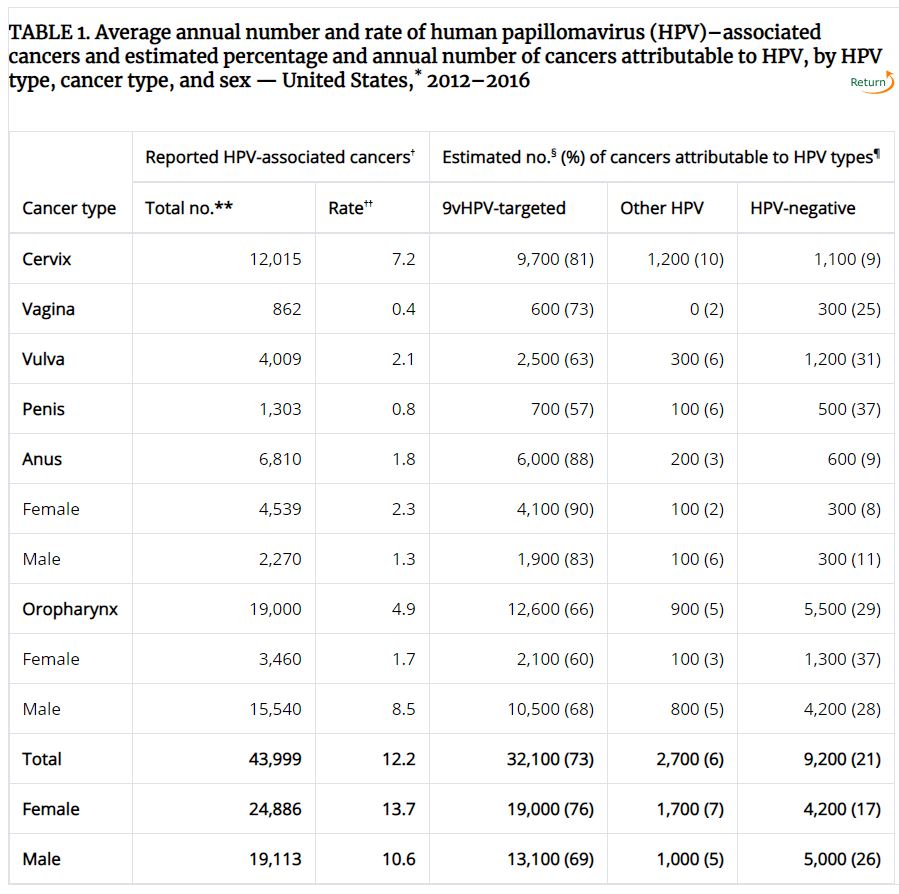 Progression from persistent HPV infection to precancers and eventually invasive cancer occurs over many years, so it might be too soon to see the effects of HPV vaccination on invasive cancers
Cervical cancer is the only HPV-associated cancer for which screening is routinely recommended. Recommendations state that women aged 21–65 years be screened regularly for cervical precancers and cancers. Women aged 21–29 years should be screened with the Papanicolaou (Pap) test every 3 years. Women aged 30–65 years can be screened with one of three strategies: the Pap test every 3 years, an HPV test every 5 years, or both a Pap and HPV test every 5 years.