In the future, people in need of an organ transplant will have one grown using their own stem cells. That means no immunosuppressive drugs, no risk of failure, no hoping someone compatible dies. Until then, the best solution to get rid of waiting lists is donor animals.
A new study completed the longest-documented case of a genetically engineered pig kidney functioning in a human body; 61 days. It used a GalSafe pig, an animal engineered by Revivicor Inc., and approved in 2020 by the U.S. Food and Drug Administration as a potential source for human therapeutics, as well as a food source for people with alpha-gal syndrome, a meat allergy caused by a tick bite.
GalSafe pigs have a single gene 'knocked out' that encodes the biomolecule known as alpha-gal, which has been identified as responsible for a rapid antibody-mediated rejection of pig organs by humans, and it has worked. Immediate rejection has been avoided in all five xenotransplants at NYU Langone. Additionally, the pig's thymus gland, which is responsible for educating the immune system, was fused with the pig kidney to stave off novel, delayed immune responses.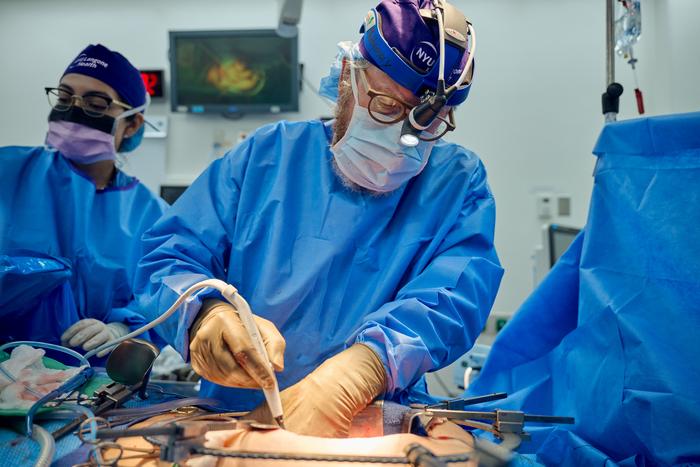 Robert Montgomery, MD, DPhil, of NYU Langone Transplant Institute. Credit: Joe Carrotta for NYU Langone Health
The xenotransplant was performed on July 14, 2023, and led by Robert Montgomery, MD, DPhil, the H. Leon Pachter, MD, Professor and chair of the Department of Surgery and director of the NYU Langone Transplant Institute. The study was thanks to the consent of the family of a 58-year-old man who was on a ventilator but declared dead by neurologic criteria before the xenotransplant. It was removed removed September 13, 2023 as the planned end.
The world's first genetically modified pig kidney transplant into a human was on September 25, 2021 and this is the fourth since. Previous genetically engineered pig organ transplants have incorporated up to 10 genetic modifications, this latest study shows that a single-gene knockout pig kidney can perform optimally after two months.
It was a big success. There was only a mild rejection process that required intensifying immunosuppression medication in order to reverse it completely.