Data from 737,839 people with dementia find that 73.5 percent of them filled at least one prescription for an antidepressant, opioid painkiller, epilepsy drug, anxiety medication or antipsychotic drug in a one-year period.
The percentages generally were even higher among women, non-Hispanic white patients, people in their late 60s and early 70s, and people with low incomes.
The problem; there is no evidence they work, they are not approved for off-label use in dementia, and some of the drugs have been linked to worse cognitive symptoms in old adults.
Nearly half of those
in the study
received an antidepressant, which might be prescribed to try to counteract the withdrawal and apathy often seen in dementia, says lead author Donovan Maust, M.D., M.S., a geriatric psychiatrist at the University of Michigan and VA Ann Arbor Healthcare System. Unfortunately, antidepressants don't treat this aspect of dementia, he says. Even so, the study shows antidepressant prescribing at nearly triple the rate for older adults overall.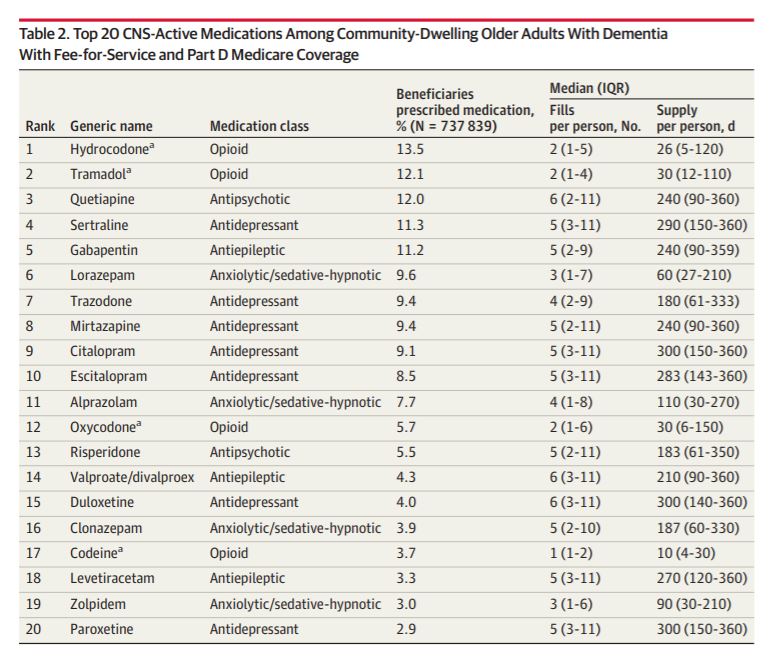 Meanwhile, for each of the other drug types studied, nearly a quarter of the adults with dementia filled at least one prescription.
Only someone who had depression before they developed dementia might benefit from staying on a drug that worked for them in the past.
And while there is little evidence of benefit, all these medications have side effects. For example, some people starting a new antidepressant can experience nausea or feel a little "jittery." Unfortunately, a person with dementia might have difficulty articulating such side effects to the loved one who takes care of them. Instead, they may appear more agitated - leading to another prescription medication to calm them.