Homeopathy, a belief from 200 years ago that if you took something that mimicked the symptoms of a disease you could prevent a disease, or that extremely diluted water with a molecule of something will be curative, has never been shown to work in any clinical trial.
Nonetheless, some people swear by it, much as people believe other placebos. What to do if your doctor recommends it? In the United States, a doctor is ethically forbidden from prescribing a placebo outside a clinical trial, but it is known some do. And lots of folk medicine/alternative medicine/integrative medicine people will claim it works if you believe it works.
But those are people who think all illnesses are psychosomatic. If your doctor actually believes in homeopathy, chances are they are just a terrible doctor, according to a new analysis. G
eneral practices in England with the worst prescribing quality scores are 2.1 times more likely to prescribe homeopathy than practices with the best prescribing quality scores.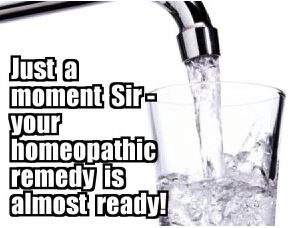 The researchers identified 644 practices that had issued at least one homeopathy prescription in a six-month period (December 2016 to May 2017). There were 2,720 homeopathy prescriptions in total costing £36,532 (mean £13,43 per item). They found that prescribing any homeopathy is associated with poorer performance at practice level on a range of standard prescribing measures. The association is unlikely to be a direct causal relationship, say the researchers, but may reflect deeper underlying practice features, such as the extent of respect for evidence-based practice, or poorer stewardship of the prescribing budget.
Lead researcher Dr. Ben Goldacre, Senior Clinical Research Fellow at the Nuffield Department of Primary Care Health Sciences, University of Oxford, said, "Although NHS expenditure on homeopathy is low, we believe the strong association between homeopathy use and poorer prescribing in general is more important than cost. It should raise concerns and may be of interest to those seeking to understand variation in clinical styles and the use of alternative medicine by clinicians."