How do you miss an organ important for the function of all organs, most tissues and the mechanisms of most major diseases? Easy, you don't look for it.
The interstitium, is under the top layer of skin and also in tissue layers lining the gut, lungs, blood vessels, and muscles. And yet it had never been detected before, because of the medical field's dependence on the examination of fixed tissue on microscope slides, believed to offer the most accurate view of biological reality. Scientists prepare tissue this examination by treating it with chemicals, slicing it thinly, and dying it to highlight key features. The "fixing" process makes vivid details of cells and structures, but drains away any fluid.
The current research team
found that the removal of fluid as slides are made causes the connective protein meshwork surrounding once fluid-filled compartments to pancake, like the floors of a collapsed building.
The study shows layers of the body long thought to be dense, connective tissues - below the skin's surface, lining the digestive tract, lungs and urinary systems, and surrounding arteries, veins, and the fascia between muscles - are instead interconnected, fluid-filled compartments.
This series of spaces, supported by a meshwork of strong (collagen) and flexible (elastin) connective tissue proteins, may act like shock absorbers that keep tissues from tearing as organs, muscles, and vessels squeeze, pump, and pulse as part of daily function.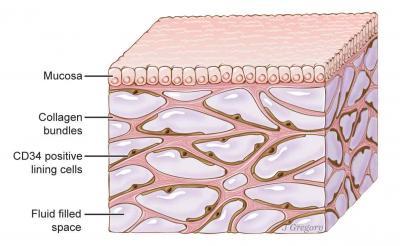 The interstitium seen here beneath the top layer of skin, but is also in tissue layers lining the gut, lungs, blood vessels, and muscles. Illustration by Jill Gregory. Printed with permission from Mount Sinai Health System, licensed under CC-BY-ND.
Importantly, the finding that this layer is a highway of moving fluid may explain why cancer that invades it becomes much more likely to spread. Draining into the lymphatic system, the newfound network is the source of lymph, the fluid vital to the functioning of immune cells that generate inflammation. Furthermore, the cells that reside in the space, and collagen bundles they line, change with age, and may contribute to the wrinkling of skin, the stiffening of limbs, and the progression of fibrotic, sclerotic and inflammatory diseases.
Citation: Petros C. Benias, Rebecca G. Wells, Bridget Sackey-Aboagye, Heather Klavan, Jason Reidy, Darren Buonocore, Markus Miranda, Susan Kornacki, Michael Wayne, David L. Carr-Locke, Neil D. Theise. Structure and Distribution of an Unrecognized Interstitium in Human Tissues. Scientific Reports, 2018; 8 (1) DOI:
10.1038/s41598-018-23062-6