The majority of today's plant-based food was created using scientific optimization of traits - genetic engineering. Watermelons, bananas, tomatoes, lettuce, and corn are all great examples of genetically engineered foods that few realize are not natural even if they carry an "organic" manufacturing process sticker.
Despite that success, government-funded scientists are reporting less funding than ever and the reason is largely because the private sector has done so well. It may also be because the war against agriculture is being waged by those often in the same political tribe as those who want to pursue a career in academia. No one wants to be shamed at parties because they do science that a giant chunk of people educated by marketing dislike.
A survey
led by the U.S. Plant Breeding Coordinating Committee of 278 public sector plant breeding programs in 44 U.S. states found significantly declining personnel hours, with many reporting that budget shortfalls or uncertainty "endangered or severely constrained" their ability to support key per-onnel, infrastructure, operations, and access to technology. Graduate student and post-doctoral positions are not tenured so they were most likely to be eliminated, but that could impact the pipeline of future breeders into the private sector. In countries like Canada, academic researchers are expected to get private company support, to show their work is valuable to all, but in America activists control the narrative so that academic scientists who even consult are dismissed as corporate shills by environmental groups.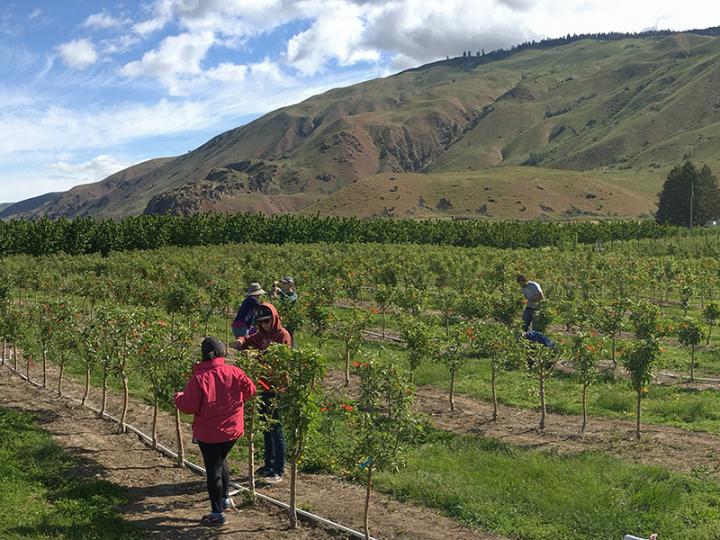 Phenotyping replicated apple population for susceptibility to Erwinia amylovora, the bacterial disease commonly called Fire blight. Credit: Sarah Kostick
Nearly half of program leaders were nearing retirement age, so jobs will open up, but if America continues to allow litigation groups like Center for Science in the Public Interest, Environmental Working Group, and Friends of the Earth to stigmatize agriculture those jobs won't have competition from the entire pool of biologists, but only those willing to endure social media smear campaigns.
Without continued access to funding, technology, knowledge, and expertise, genetic engineering could be limited just to the 'home run' foods, and not smaller, important breakthroughs like the Rainbow Papaya, which saved that industry in Hawaii after chemicals and older breeding methods failed to stop a devastating virus.
U.S. food security, natural resource resilience, and public health have all improved greatly since 1980, when a reinvigorated agricultural science blew past the speculated limits of the Population Bomb cult and provided so much food at such low cost that even America's poorest can now afford to get fat.