Though photos are considered more credible, if you are evangelizing a controversial energy type like wind, a cartoon may appear more persuasive.
In a recent study, participants were shown one of two versions of the same set of brochures. Each set was designed to debunk a myth about wind energy, the intent being to give readers desired information about wind energy and assuage their concerns. Each pair of brochures was identical in design, text, color, size, etc.
The only difference was that the originally designed brochures featured a beautiful, professional photograph of wind turbines, while the look-alike brochures created for the study swapped out the photograph with a cartoon.
People looked at cartoons longer, so they were more cognitively engaged, say the scholars. The photos used to represent wind energy on the original brochures were just scenic shots of the turbine blades or a landscape dotted with turbines, so people didn't look at them as long. Interestingly, the respondents said the content was better in the cartoon brochures (even though the text was identical), but the credibility was lower than the brochures using photographs.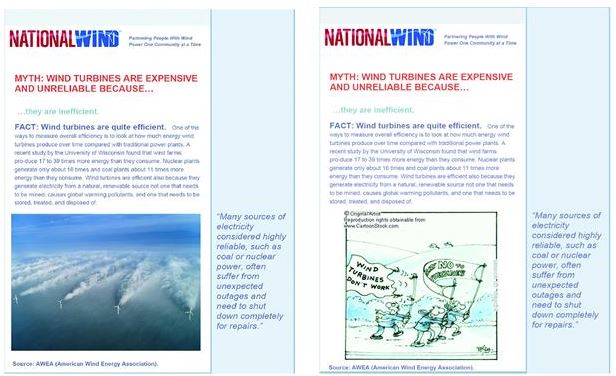 "It may be because of the more light-hearted approach of cartoons," says University of Illinois agricultural communications professor Lulu Rodriguez. "Cartoons make a topic like wind energy, which may be a bit scary to people, more accessible."
In terms of wind energy, Rodriguez says, people worry about claims that the turbines kill birds, when in fact, cars kill more birds. Rodriguez cites communicating about GMOs as another possible case in which incorporating cartoons may inform people.
"Most people don't know about all the regulatory layers at the local and national level involved in producing GMOs. If you try to describe that for people in text, they may not get it or they may not be motivated to read lines and lines of words. Perhaps a cartoon showing safety regulations or the similarity of genetic engineering to natural crossing of plants would be more convincing," she says.
"I have a colleague who actually did this to explain how they got the vitamin A into golden rice using a cartoonish infographic. Not very scientific—but people get it. It's a lot easier to explain complex scientific concepts that way."
Citation: Lulu Rodriguez, Xiao Lin,"The impact of comics on knowledge, attitude and behavioural intentions related to wind energy," Journal of Visual Literacy.