The COVID-19 pandemic has sent both political parties rushing to wrap themselves in the flag of science - even those voters who were historically more inclined to oppose vaccines and medicine and purchase organic food.
They should have been on Team Science all along, and
a new analysis shows why
; in a recent 16 year period, over 1.2 million people were saved thanks to 106 new treatments approved across 15 common tumors from 2000 to 2016 - including colorectal cancer, lung cancer, breast cancer, non-Hodgkin's lymphoma, leukemia, melanoma, gastric cancer, and renal cancer.
The study used a series of national data sets from sources including the Centers for Disease Control and Prevention, the US Mortality Files by the National Center of Health Statistics, Survival, Epidemiology and End Results program (SEER), and United States Cancer Statistics data.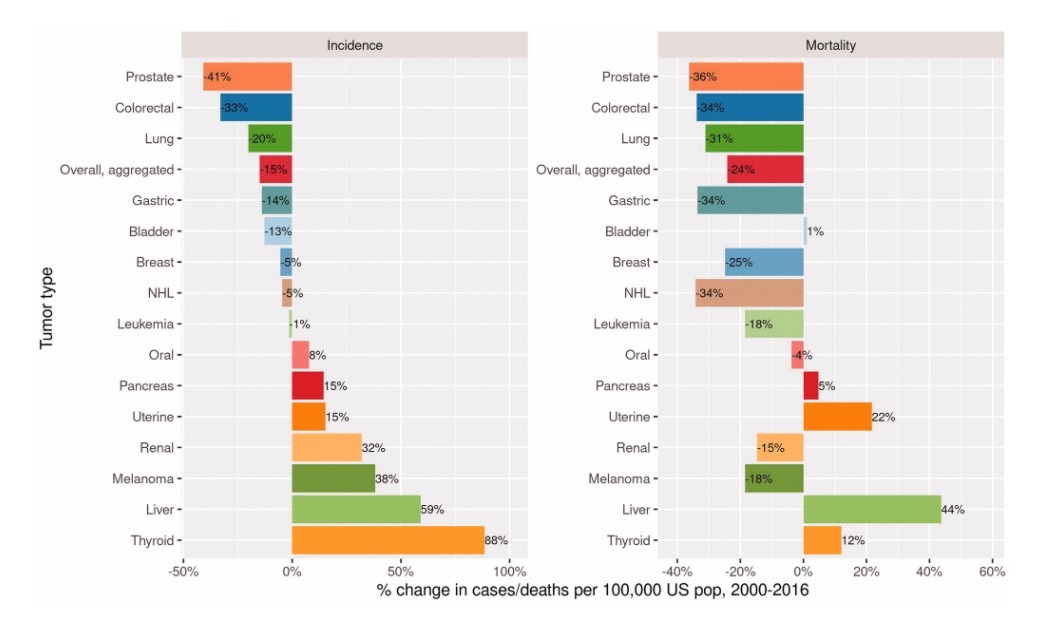 That 1,291,769 mortality drop translated to a reduction of 24% per 100,000 people in the the U.S. Some specific drops:
Breast cancer - 127,874
Colorectal - 46,705
Lung - 375,256
Prostate - 476,210
Non-Hodgkin lymphoma - 48,836
Lead author Dr Joanna MacEwan, from PRECISIONheor,
says
: "These findings can help contribute to a better understanding of whether increased spending on cancer drugs are worth the investment. While we do not answer this question directly, our results demonstrate that the result of successful investment--i.e., new cancer therapy approvals--generates significant benefits to patients.
"The efficacy of each treatment is estimated from clinical trial results, but this study provides evidence that the gains in survival measured in clinical trials are translating into health benefits for patients in the real world and confirms previous research that has also shown that new pharmaceutical treatments are associated with improved survival outcomes for patients."
Some cancers need to be tackled next
Though mortality rates were down across many cancers, estimated deaths were up by 825 in people with thyroid cancer, and 7,768 for those with bladder cancer. But there were not many drug approvals during this period: five for thyroid cancer and three for bladder cancer. There were no approvals in liver or uterine cancer from 2000 to 2016, and few approvals in pancreatic and oral cancer.
Some are still going to embrace supplements and alternatives to science when it comes to vaccines, but the chances of us returning to the days of the Clinton administration, when the National Center for Complementary and Alternative Medicine and the Dietary Supplement Health and Education Act of 1994 hoped to undermine, are low. Coronavirus overturned the belief that vitamin D and vitamin C could prevent everything.