Alzheimer's research is always big news. The reason is simple: people are living longer and they also want to be living better. While progress in general health issues for seniors marches on, the brain remains trickier stuff. Instead of less Alzheimer's than in the past, we have more, thanks to better diagnosis and greater longevity. Once you reach a certain age, you are almost certain to have someone in your family with it.
Right now, there are approximately 5 million Alzheimer's patients in the US and the projected direct/indirect costs are around $148 billion/year. But the post-World War II 'baby boom' is only just now hitting retirement age; soldiers and support personnel returning from war in Europe and the Pacific in 1945 became parents at unprecedented levels and so now a surge in the elderly coupled with better biomarkers and clinical assessment tools means the US could have 14 million diagnosed cases of Alzheimer's by 2050, with costs that could exceed $1 trillion per year.
There is a lot of progress being made in understanding the disease
(1)
but the issues caregivers face get less attention, even though an analysis by the Johns Hopkins Bloomberg School of Public Health found that 43 percent of those with Alzheimer's disease will need high-level care, equivalent to that of a nursing home, even if they live with a family member.
I got asked to review a new app for Alzheimer's caregivers called Balance
and it helps to alleviate a lot of the detail work and coordination in caring for people with the disease. The timing was fortunate; I had recently spoken with my mother and she revealed two family members I had known well as a child had it. One was in a facility but one was not and I saw a statistic from the National Alliance for Caregiving stating that family members provide an estimated $375 billion worth of uncompensated aid to Alzheimer's patients each year. That's a lot of time and effort.
What were the biggest concerns of those caregivers? Managing the chaos that comes from caring for a family member. 77% of respondents believed technology could help them manage their time more effectively while 75% thought it would make the care recipient safer.
I gave the
Balance app
a try, basically as someone who would be brand new to caring for someone with the disease. It was created by the National Alzheimer Center, a division of
the Hebrew Home
at Riverdale in New York City, which is the kind of managed facility a third of seniors may need at some point. There's no real way to show the flow of an app but below are some screenshots: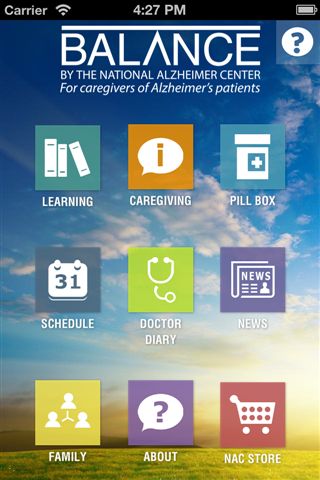 Credit:National Alzheimer Center/Hebrew Home at Riverdale
It's pretty intuitive, as you can see. Anyone who has designed any sort of software tool knows how hard an elegant design is. It's easy to get sucked into feature creep and have all these layers and arcane options no one will ever use. Hey, we have
Chess
here on Science 2.0. No one uses it, so I'm as guilty as anyone of feature creep, but this never goes more than three screens deep to get you to everything you want to do. They have an encyclopedia for people who are new to learning about Alzheimer's and the news section has the latest developments from about 30 sources they curate. But the real beauty is the sections for caregivers, notes, medication and the calendar. With Alzheimer's patients, be they in a facility or the home of a family member, there are multiple medications, multiple caregivers and multiple doctors and this basically allows everyone to literally be on the same page. This was clearly not designed by the kind of people who create Farmville or something like that.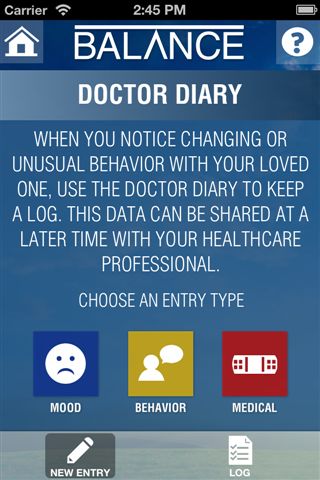 Credit:National Alzheimer Center/Hebrew Home at Riverdale
I called up David Pomeranz, the architect of the app and executive vice president at the Hebrew Home at Riverdale. He's been in the field for 28 years, starting way back when Alzheimer's was just lumped in as a general Organic Brain Syndrome, and their non-profit group helps care for over 10,000 seniors throughout New York City. It turns out he started designing the app on a notepad for the most obvious reason; he has worked in the field for decades, so the expertise was there, but his mother contracted Alzheimer's and he has family in other cities who want to be involved, and help how they can, and this became a way for them to know what is happening.
He says the goal was simple enough, he wanted to create a way to help multiple caregivers communicate and coordinate with each other in real-time
and also include family in the information chain. And it certainly does; the entire process can quickly be integrated with everyone in the Alzheimer's patient network. Since debuting a few weeks ago, they say it has been downloaded all over the world, showing that Alzheimer's care solutions are a global need. But it's also a glimpse of the future of care. It's sort of a 'why was this just created now?' idea, so obvious you might wonder why a doctor or nurse is writing anything down on a chart rather than having transcription done into tools like this.
You can get
Balance
on iTunes for $3.99.
NOTES:(1)
Genetics, Stress, smoking, even lead from childhood get the blame. Stem cell research, Omega-3 fatty acids, prions,
even eating curry
and
drinking wine
may help mitigate or prevent it. It's still pretty wide open.