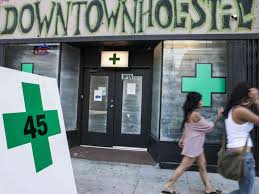 Note: California voters approved medical marijuana in 1996, but the retailing of pot did not bloom until 2009, when local communities and the state finally issued "guidelines," proving once again that you do not need marijuana to procrastinate.
2010
Wednesday, Nov.4: Friend from England, soon to visit, asks if can arrange "some good smoke" while he visits. Not that it's a priority, of course.
Monday, Nov. 9: Friend from England calls "just to see if you've made any progress." Decide to see doctor. But where? Not mine!
Friday, Nov. 13: Friend tells of great doctor who can help me. Basic reason for recommendation: "He's a total pushover!" Make appointment.
Monday, Nov. 16, 1pm: "Green Rx" says the sign. Is located next to "Oil changes, spark plug replacements."
Monday, 1:05: Physician, "Bruno," gives prescription. Diagnosis: Anxiety. Surprise.
Monday, 1:30: Visit dispensary downstairs. Tell counter guy I don't want anything too intense. Gives freebie. Try.
Monday, 1:39?--but who really knows! Cured of all anxiety!
Monday, 9 pm: Return home, say "hi!" to living room couch, go to bed
2011
Jan 1: Celebrate two years of continuous stoned out of f%#$! mind alternatively-treated anxiety. Zanax begone!
Jan 2: Wife, Erminia, claims "anxiety." Immediately hide stash. Tell her try leftover Zanax
June 6: City of Los Angeles begins "raids" of eastside dispensaries not in compliance with new law. Take prescription to "upscale" westside location.
June 6: In upscale dispensary near Beverly Hills. Located right by major university. Doctor name: Josh. Comforting. I love Josh! Purchase many cool drugs: marijuana lollipops, ice cream, body lotion, wrinkle cream and cookies, brownies, peppermints and chocolate bars. Counter staff really not with it so "trick" them into giving extra 1/8th gram (basic measure) for free.

Ha ha ha ha ha...ha!
June 7: Problem: the smoke-munchy-smoke-munchy-smoke-munchy cycle! I feel so much shame! Tee-hee!
2012
Jan 1: Decide visit San Francisco--City of Love! City of Foodie-ism. And now: City of the Great Blue Fog! Witness:
Jan 2 ,1230: Enter City via Bay Bridge. Excited!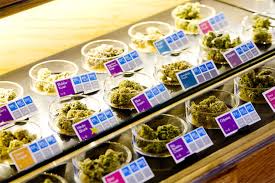 L.A. marijuana dispensary
1:00 pm: Enter "Green," typical upscale dispensary near Google local offices. On-site doctor name: Ken. Question: where Barbie?
1:10 pm: Give "prescription card" to v hot receptionist. Go inside. Amazing! Shiny display case after shiny display case of cannabis varieties! Classics: Maui Wowie, Oaxaca Gold, Kandy Kush. New style: Herojuana, Twilight Sleep, Grim Reaper. Is like the best farmer's market in the whole world! Cheaper! No brussel sprout activists!
1:20: Counter guy says "Why don't you go upstairs? We have a hookah room! Everybody goes up there." Go up there.
1:25: Up there.
2:00: Up there.
2:30: Up there. Notice that fellow hookah-ers are all in nice suits, fab hair, slim, can wear horizontal stripes, etc. Hate fellow hookah-ers! Try to leave. V slowly. V.
4 pm: At hotel. Rest up. Eat Toblerone candy bar, nacho chips, can of peanuts, diet Coke. Repeat. Gummy Bears stale, hard. Eat anyway. Gag. But in-house movies awesome, even if $15 a pop. I just don't care!
6 pm: In pot-sleep trance. Have many thoughts, like:
-- Are there many French who are farmers?
--Is it wrong to see an old girlfriend if you are not wearing underwear?
--Is Stevie Wonder happy?
--Why does my toenail look like a sausage?
--Why is Vanilla Sky so awesome a movie? And why doesn't anyone else like it?
--Is it possible for the Virgin of Guadalupe to appear on a slice of prosciutto?
9:00pm: Decide to be adventurous. Those "medical dispensaries" are so phoney! Go to "score some bud" in dicey end of famous Castro District.
9:31pm: In Castro District. Way dicey. Way frightened.
9:40pm: Approached by dealer. Says: "This shit will make your ears bleed!" But like my ears! Important for hearing! Also: Am often told ears are "cute." Anyway, ask dealer for "not too powerful" stuff. Dealer splits b/c thinks am crazy
9:50pm: Getting foggy and chilly. Surprise. Approached by nice lady in heels who asks if I would like her to 'polish' something. Tell her no b/c housekeeper already takes care of dishes, silverware, etc....
10:10: Finally "score." Try. Get in taxi. Go to famed North Beach Italian district. Eat pizza. San Francisco is perfect city. I know. Everybody here told me so.
2013
Friday, July 2: Wife Erminia says: "You're getting lazy and procrastinating again. Maybe you are smoking too much?" Deny.
Monday, July 5: Commence road trip to Sonoma, aka Wine Country, aka Weed Country.
Tuesday, July 6: Commence road trip to Sonoma, aka Wine Country, aka Weed Country
Wednesday, July 7: Really really try to commence trip to Wine Country aka Weed Country. Succeed but wife drives.
Thursday, July 8: North of Sonoma in major weed-grow area. Many vape shops, gay-ish munchie places ("Parsley Sage Rosemary and Bob"), survivalists, hippies.
11:00 pm: Arrive friend's house. Given huge package of free weed. Almost spray self.
2:00 pm: Test free weed
3:00 pm: Test free weed
4:00 pm: Guess!
Friday, July 9: Evaluating yesterday's tests. Agree: local pot here "more like the old pot," ie can smoke without worrying about risk of coma.
2014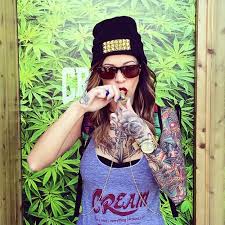 Thursday, June 13: LA's latest contribution to world culture-- major spread in newspaper: "Madzilla! The World's Most Famous Pothead Hip-Hop Tattoo Model."

Awesome in every way!

Madzilla's advice on how to meld porniness and pot? "Get a mouthful of smoke and, like, fill your lungs up but don't, like, force it out. Just push out your tongue and it just floats out. And just tilt your head back so it doesn't burn your eyes."
Remarkable how same advice used for other things. But love Madzilla! [video at laweekly.com]
Thursday, later: Read big study: Pot smoking increases risk of psychiatric problems if under 25.
Am 60.
Greg Critser is a freelance writer based in Pasadena CA