The Macmillan Coffee Finder is a new, free iPhone app from Macmillan Cancer Support to help people find the best cup of coffee nearest to them.   And make some new friends.  And help people in the UK with cancer.
 The iPhone app has over 900 cafés and coffee shops and is part of Macmillan Cancer Support's World's Biggest Coffee Morning campaign on the 24th to encourage people to get together to have fun, make friends and raise money for to help people affected by cancer.
 Key features include rating the cafés by giving them a mug rating, options to upload pictures of the café, the pastries, the view etc, and commenting on them too. Using the app's filters, users can find coffee shops with gallery spaces, wifi, toilets, alfresco seating and organic produce. Plus, using its map of the UK, cafés can be easily located. Furthermore, using its amazing augmented reality technology, users can hold up their iPhone and see a mug representing the café floating in front of them - all people have to do is follow it to find their coffee of choice.   If a favorite coffee shop is not listed they can send it to the editors.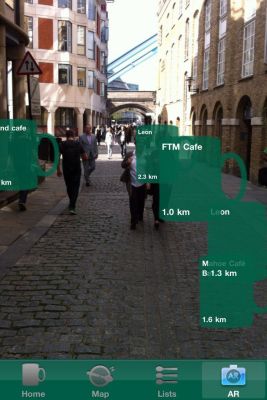 Noel Lyons, of design agency Kent Lyons explains, "We wanted to come up with an interesting and fun tool for users which also helps Macmillan to spread their message whilst making it easy for people to donate, and take part in World's Biggest Coffee Morning."
The iPhone app can be downloaded from http://bit.ly/coffeefinder
Alternatively, to simply make a donation to Macmillan simply text cafe to 70123 and GBP3 (the cost of a coffee) will be donated to Macmillan.
 For more information about the World's Biggest Coffee Morning, visit http://www.macmillan.org.uk/coffee
To find out more about Macmillan, visit http://www.macmillan.org.uk