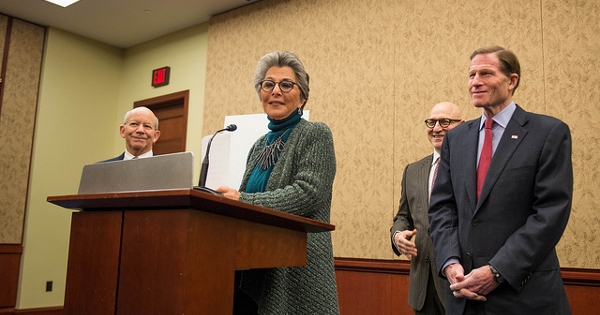 In 2013, Senator Barbara Boxer (D-Calif.) introduced a bill
to put federal labels
on foods that contain any component that has been genetically modified. It was a perfunctory effort then and died in committee, but
she is trying again
, and this time she has been joined by Senator Richard Blumenthal (D-Conn.), and U.S. Rep. Peter DeFazio (D-Ore.), citing "health, economic, environmental, religious and ethical" reasons. They wisely left out "science" but did make sure to include a quote from "Top Chef" Judge Tom Colicchio.
Obviously the big question is, why? When she attempted this two years ago, Californians had voted down Proposition 37, which mandated labels on GMOs, and while admittedly it was poorly written, voters were probably sympathetic to 'awareness' about food if it doesn't look like an effort by the $105 billion organic industry to penalize its competitors. Still, it wasn't a total rout so her effort made some political sense.
Earlier in 2012,
she also had tried to pressure Food and Drug Administration Commissioner Margaret Hamburg
to require labeling of genetically modified foods.
To most politicians those failures would be a cautionary note. If California, the state with the most science denial when it comes to food and medicine, doesn't want labels, why think the whole country does? To the public, these labels are a non-issue. When prompted, people say they care, sure, but no one reads labels and if they are not prompted,
only 7 percent of the public says knowing about GMOs is important to them
. The FDA agrees with science and the public, noting, along with every scientific body, that GMOs are no different than any other food. Organic food has tried to claim it is 'materially' different from regular food, rather than just a process,
which is why the USDA is getting rid of the special panel of lobbyists who determine what an organic label requires
.
Senator Boxer has already said she is retiring and so she has very little political capital as a lame-duck in the minority party. Unless it is a campaign contribution payback for Ben&Jerry's and Just Label It, this seems a little pointless. But it has ramifications. She hinted in her retirement statement that her next effort would be to get former Senator Hillary Clinton elected President, so what might her efforts mean for the reputation of Democrats and science? Are we swinging back to the 1990s, when Democrats were regarded as the anti-science party, a title they lost to Republicans during the Bush years?
Perhaps. In a country where 6 percent of the public decides presidential elections, perception matters. While Democrats successfully glossed over
President Obama's statements about vaccines and autism
and his desire to get advice from
UFO believers and a guy who thinks girls can't do math
, young Democrats who have come of voting age since 2008 are not going to be as easily misled by party elites as they were then. Being surrounded by people who are clearly against the scientific consensus on more issues than they are with it could cause those voters to just stay home rather than vote for Clinton.
In 2013, Boxer did get one Republican on her bill, and that is the same here, so with the proper framing it can be said that anti-GMO sentiments are bipartisan. The list follows, just as I did after her efforts in 2012 and 2013.
Anti-GMO Democrats in the Senate:
Patrick Leahy (D-VT)
Bernie Sanders (I-VT)
Richard Blumenthal (D-CT)
Dianne Feinstein (D-CA)
Chris Murphy (D-CT)
Jeff Merkley (D-OR)
Barbara Mikulski (D-MD)
Jack Reed (D-RI)
Jeanne Shaheen (D-NH)
Martin Heinrich (D-NM)
Elizabeth Warren (D-MA)
Jon Tester (D-MT)
Cory Booker (D-NJ).
Anti-GMO Republicans in the Senate:
None
Anti-GMO Democrats in the House:
Adam Schiff (D-CA)
Carolyn B. Maloney (D-NY)
Alan Grayson (D-FL)
Tulsi Gabbard (D-HI)
Chellie Pingree (D-ME)
Nita Lowey (D-NY)
Jerrold Nadler (D-NY)
David Cicilline (D-RI)
Earl Blumenauer (D-OR)
Jared Polis (D-CO)
Jackie Speier (D-CA)
Ann McLane Kuster (D-NH)
Eleanor Holmes Norton (D-DC)
Grace Napolitano (D-CA)
Peter Welch (D-VT)
Dina Titus (D-NV)
Jim McDermott (D-WA)
Michael Honda (D-CA)
Marcy Kaptur (D-OH)
Brad Sherman (D-CA)
Gerald Connolly (D-VA)
Anti-GMO Republicans in the House:
Don Young (R-AK)
Top image provided by the office of Senator Barbara Boxer.