With all the "bro's" and "ho's" we hear about in the rap world, I think it's safe to say that as a society, we all agree that the rap industry could use a drastic image change. Furthermore, if that image change could include an educational aspect, then that would definitely be beneficial for our children.
Just imagine, all the cool and funky beats of rap music coupled with the wholesome words we use in science class. What a concept! And please, don't be hatin' on me because you didn't think of it first.
To lead this movement, I nominate Tampa's own Steven Rush, also known as, "Funky49." Funky is the self proclaimed Rap Ambassador of Tampa's Museum of Science and Industry (MOSI). Funky49 takes pride in his hella tight Beastie Boy-ish style.
"I always love a reference between me and the Beastie Boys," Funky explains.
Recently, Funky49 released the album,
Rapbassador
, to promote MOSI exhibits. In my opinion, Funky's music be bump'n and he knows how to bring the house down with such raps as, "Your Body Is A World," and "Still Nerdy." However, my all time favorite Funky49 raps are release exclusively on his
website
, "Intergalactic Pizza Party" and "Rape Iz Foul."
"MOSI got the party if you party with science," Funky49 raps.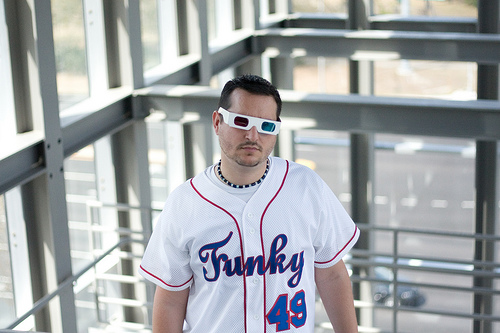 An interesting point, kids most definitely should be partying with science at museums, not with Paris Hilton in sleazy clubs like the ones you see on the
E!
channel. Funky49's music could revolutionize the rap industry while being a positive stimulus for our young ones.
Because Dolly Parton, Cher and Tom Jones are not part of the rap genre, I realize that some of scientificblogging.com's readers may not be familiar with actual rap lyrics our kids are listening to these days. Therefore, I would like to compare and contrast the wholesome and invigorating style of Funky49's rap music versus today's rap industry lyrics.
Here are some Funky49 lyrics about MOSI's IMAX theater:
I max, you max, relax at the IMAX
Obscene screen of your dreams
Even make an esteemed man scream
Whatever your home's got, don't be pissed
Because it cannot compare to this, got
Curva-ture, like a fine girl
Step inside the IMAX world, screen
Ginormous Ar-gen-tino-saurus

However, if Funky49 was producing a LP under a Los Angeles Rap industry music label, his lyrics would have been something like this:
Wussup max, yo max, relax and pass it max
Obscene green of yo dreams
Even makes a home boy cream
Player don't be hatin', you just got dissed
'Cause I ain't said nuff'n 'cept this, gotz
Curva-ture, like a fine ass machine gun
Step inside my pad max, scream
Ginormous cool-Satan-o-saurus

Do you see the shocking difference between lyrics? Funky49's rap song talks about an enjoyable experience at an IMAX theater that always shows educational films. This is in contrast to the modern rap version which includes drug and sex innuendos, dissing (which leads to hurting people's feelings), guns, making Satan sound cool, and not to mention it's loaded with improper grammar.
Now do you understand why we need to promote Funky49 as our new science music rap ambassador? Well, just in case you don't, here is another example as illustrated with Funky49's "Still Nerdy" rap song:
My pipe twenty mega bits thick
Download torrents with the quickness
Witness drive overflow with mad data
IDE to SATA, look at me I made a
Life form computer geeker while stayin'
Stay'n alive, head still high with pride
Check the girl by my side, in my ride
My cutie, my wifey, you know that she's still nerdy



As opposed to a real rap industry version:
My pipe be twenty feet high
Upload smoke with hella quickness
Witness protection program 'cause my homie is mad
IPE to COLT 45, look at me while I drive
Life don't include school where I'm playn'
Makin' amphetamine, head still high with Sudafed
Check the girl next to me, she be dead
Was once my possie, my shorty, but she was too damn wordy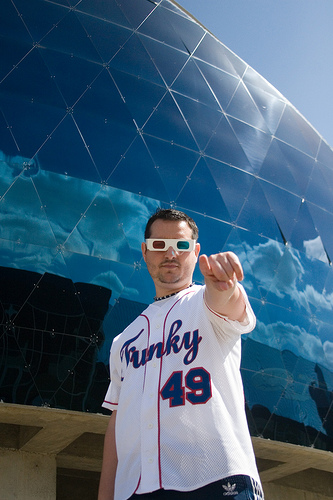 As you can clearly see once again, Funky49's version includes sophiscated computer lingo and even professes his monogamous love for his highly intelligent wife.
However, in the industry rap version drugs, being in trouble with the wrong crowd, drunk driving, not going to school, and women who speak their minds should be punished is discussed instead of productive activites.
Obviously, you're on board now with my plea for a rap industry make-over.
I know we all think Funky49 is hella cool, but perhaps you're concerned that our children won't think so. Well, don't worry about that because in the music video "
Milk&Doo Doo
", Funky49 really gets funky.
In the video we observe how every one is having fun with just milk instead of malt liquor. Also, it is clearly proven that Funky is extremely cool because he has lots of pretty girls hanging out with him.
Now that you've read about the real dangers of rap music and seen the Funkster in a music video, I encourage you to take action. As soon as your child goes to school, go through all of their personal belongings and get rid of their Snoop Dog, Eminen, Tupac, Lil' Wayne, and Hannah Montana CD's (leave Kanye West CD's though, he's doing the lord's work). Finally, replace those filthy CD's with Funky49's
Rapbassador
album.
Your children may not like this, in fact, they might even hate you for it. But the day they graduate from Harvard University instead of the University of Compton, they'll thank you for ridding their lives of such nonsense and replacing it with music that even a Walmart in Utah would approve of.
Because you know I like to keep it real, I'd like to summarize my article Funky49-style:
Yo my name is Hayley and I'm here to say
American kids are brain washed each day
Today's Rap music has gotsta go
Should be replaced by lyrics without words like ho
Take it from me, the hippest scientist in town,
You know I've got the bestest rec'mendations 'round
Funky's music is tight so let's unite
Force your kids to listen to Funky so they turn out right!