The Real Ira Hayes
The world's largest statue is a bronze sculpture 110 feet high.
It depicts six Marines. Each figure is about 32 feet tall.
They are hoisting an American flag on the island of Iwo Jima.

I would like to introduce my readers to an artist who has painted a wonderful version of this iconic image. He has also written an article about the real Ira Hayes to go with his painting.
Unfortunately, I have been unable to contact him through his website for further information.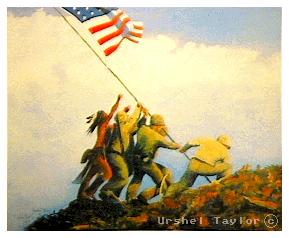 "Old Glory Goes Up On Iwo Jima, Mount Suribachi, Feb. 23, 1945.
Ira Hayes is a Pima Indian From Gila River Reservation Arizona.
I am Pima Indian from the Salt River Reservation , north of Gila River. I am also a former Marine that spent many year's over seas but I never went through the battle Ira Hayes went through."
Urshel Taylor
Ira Hamilton Hayes, Corporal, United States Marine Corps

His decorations and medals include the Commendation Ribbon with "V" combat device, Presidential Unit Citation with one star (for Iwo Jima), Asiatic-Pacific Campaign Medal with four stars (for Vella Lavella, Bougainville, Consolidation of the Northern Solomons, and Iwo Jima), American Campaign Medal, and the World War II Victory Medal.
Corporal Hayes was awarded a Letter of Commendation with commendation Ribbon by the Commanding General, Fleet Marine Force, Pacific,Lieutenant General Roy S. Geiger, for his:
"meritorious and efficient performance of duty while serving with a Marine infantry battalion during operations against the enemy on Vella Lavella and Bougainville, British Solomon Islands, from 15 August to 15 December 1943, and on Iwo Jima, Volcano Islands, from 19 February to 27 March 1945."

Source:
Ira Hamilton Hayes
, Arlington National Cemetary Website
Biography of
Urshel Taylor.
Copyright notice:
I sincerely believe that my use of a low resolution copy of the above image constitutes fair use because it promotes the best interests of the artist and the subjects in the painting.