The Research!America Civic Engagement Microgrant Program supports activities developed by students to connect directly with public officials and community leaders regarding the importance of scientific discovery and research.
The group is funding graduate student groups' nonpartisan activities of their design focusing on civic engagement and elevating the importance of scientific research, innovation, and public health. These programs encourage dialogue between young scientists and local leaders about the roles science and research play in issues important to their communities. Groups are also encouraged to expand their efforts through partnerships with social science and communications students as part of the new Science Meets Science Microgrant Program.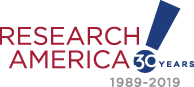 They are seeking innovative proposals from a diverse group of early-career scientists, through collaborations with other science policy groups on activities such as op-ed writing workshops, roundtable discussions, forums, or science-fair style events with elected and non-elected public officials, community leaders or policy experts, local or state officials and members of the public.
Applicants can apply for $1,000 to $3,000 in grants.
Proposals are due by Friday, September 20, 2019 and more information
can be found here
. Research!America leadership and staff will review proposals and those selected for funding will be announced in early October 2019.
Click here for the application
. Up to 15 groups will be awarded.