Given all the NASA funding, you think we'd get something from it!  Oh, wait, we do. 
SpaceRef
pointed me to the
NASA SpinOff 2010
report.  What did we get for our $19 billion annual NASA budget?  I mean, that's a lot of money, that's... oh, wait, that's not a lot of money today.  My mistake.  True, you could buy 19 Stealth Bombers for that cost.  Or fight a typical war for 1 month.  But could you... save the airlines $2 billion in fuel costs with NASA wing mods?  Make a sensor that's in 1 in 3 cell phones?  Turns out we do get some bang for our buck.

I'm not going to get all zinc oxide on you, but I do think it's worth noting.  You can try the NASA flash app if you wish.  Basically, NASA's had a busy year.

Okay, here we go, the 2010 NASA Spinoff technologies.  And I'll make a deal with you.  I'll accept the argument that, if we didn't fund NASA, the private sector would have created all of this, if you in turn are able to tell me who in the private sector is willing and able to fund the pure research that produced these results.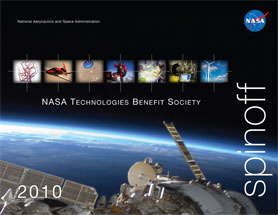 Enjoy these NASA Xmas presents!

Alex

Tuesdays at
The Satellite Diaries
and Friday at
The Daytime Astronomer
(twitter
@skyday
)

NASA's 2010 short list of spinoff achievements: