As large, visually-oriented mammals, we have long had a tendency to consider biological diversity primarily in terms of what we can see. There is, however, an entire world of creatures rarely encountered but no less unique and intriguing for it. Sometimes, one only needs the right tools, or the proper motivation, to recognize a group of organisms well worth our attention.
It is in this spirit that I am pleased to introduce you to Hypsibius dujardini, one of about 700 known species in the Phylum Tardigrada, commonly known as a "water bears" due to their ursine appearance.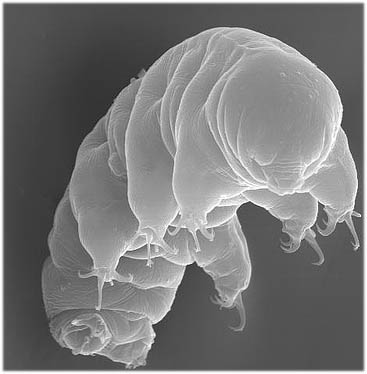 Literally meaning "slow walkers", tardigrades are tiny water-dwelling animals (typically 0.5-1.0mm) that can be found in droplets of water on mosses or in beach sediments.
Tardigrades are interesting from a physiological perspective because of their extraordinary ability to withstand dessication as metabolically inactive, dried up "tuns". Tardigrades in this state can survive droughts as well as extreme cold, heat, and pressure, and are dispersed by the wind. When once again they come into contact with water, they revive and carry on about their business.