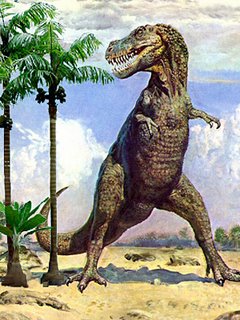 A new museum in Petersburg, Kentucky greets visitors with a 20ft tall tumbling waterfall and at its base, mannequins of frolicking children play amongst dinosaurs. The Creation Museum, which cost $25 million to build, is home to many unusual sites: a diorama of ancient people overshadowed by a towering
T. rex
, Adam and Eve swimming in a river with giant reptiles, and even a scale model of Noah's Ark.
It seems Noah solved the problem of fitting dinosaurs into his vessel by only taking baby dinosaurs. Indeed, the ark has a detailed display of many animals happily boarding the boat: dinosaurs cavort with giraffes, penguins, hippos, and bears.
Museum guides tell visitors that before Adam and Eve were expelled from paradise all of the dinosaurs were peaceful plant-eaters.
In Genesis 1:30 God gives 'green herb' to every creature to eat and so there were no predators. When a curious museum visitor asks, why exactly T. rex had six-inch long serrated teeth, the guides go on to explain that T. rex used his big teeth to open coconuts. Apparently it was only after Adam and Eve sinned and were cast out of paradise that the dinosaurs started to eat flesh.
My opinion: I think the people who built this museum are smoking a bit too much 'green herb'.