My colleague, the Tortoise Cat, always attempts to alert me whenever a lone wild rabbit prances by our back steps in the wee-most moments of the dawn. But I have been too slow, so far, to catch even a fleeting glimpse of that cottontail bouncing away, into the shadows.
Later, in broad daylight, the tale-tale snow-prints of a fleeing
cottontail rabbit
jump out at me. I ponder what this bunny neighbor might have been zig-zagging away from in such a rush.
The large prints of the rabbit's long rear paws landed way ahead of the tiny holes made by the dainty front pair (that were already leaping again) amid evasive maneuvers.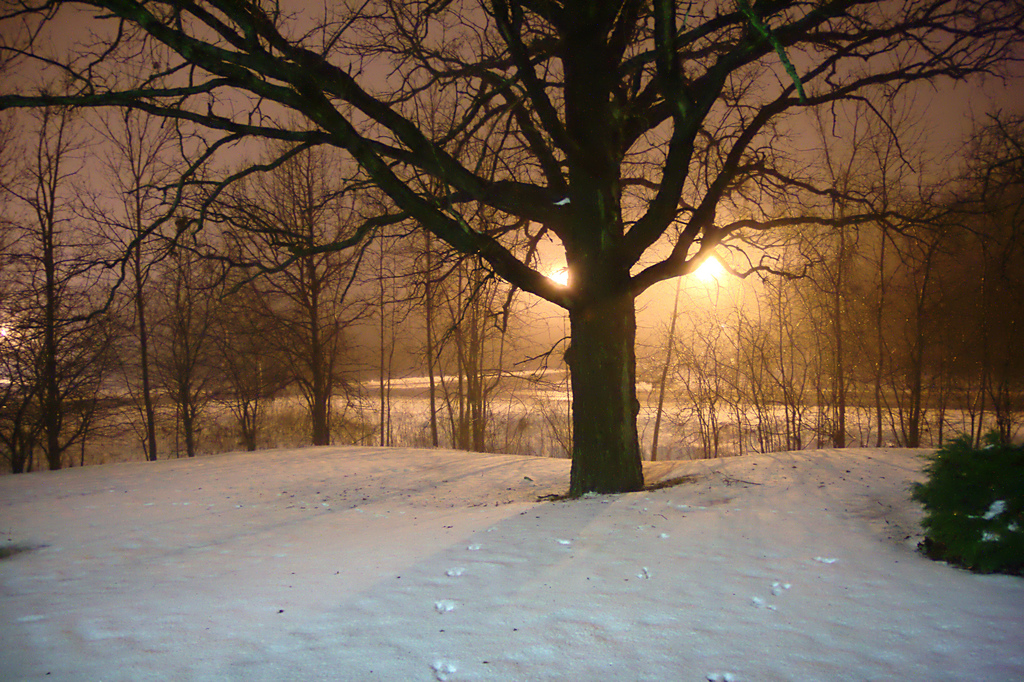 Rabbit tracks through snow on in southeastern Wisconsin, by Beige Alert (BeigePhotos), via Flickr.com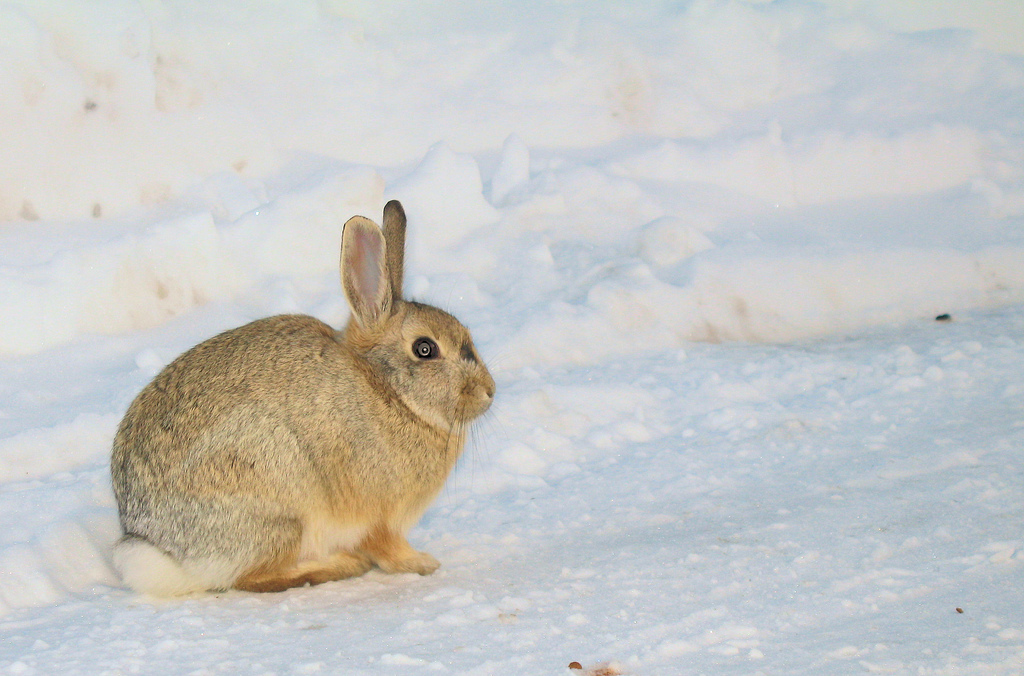 "Frozen" (hiding in plain sight) bunny in a hotel parking lot outside of Denver, Colorado, by RichardMasoner's son, Ian, via Flickr.com
Since the snow around last night's tracks showed no signs of pursuing predators, I imagined this headlong, foot-long dashing rabbit might have hopped into the narrow space between the buildings to escape the stealthy swoop of a mighty, morsel-hankering
owl
.
Pre-dawn
cottontail rabbit
romps like this have been happening between snowstorms, when our bunny-buddy may be out foraging the urban landscapes for edible twigs and leaves and climbing up snow drifts to reach more.
The
cottontail rabbits
around our block might be getting ready for moonlight "dances." The long rabbit mating season, from February through summer, is about to begin.

More about cottontail rabbits:
Our nocturnal visitor is probably the eastern cottontail rabbit,
Sylvilagus floridanus
. During strolls around the block at dusk, the Tortoise Cat and I encounter these plain, grayish-brown-furred neighbors often, "frozen" (hiding in plain sight) at the edges of garden beds, as we pause and then pass by.
The eastern cottontail rabbit is found in the eastern and south-central United States as well as throughout the Midwest, southern Canada, eastern Mexico, Central America and northern South America.
What wildlife "neighbors" or critter tracks have you noticed? Do tell.