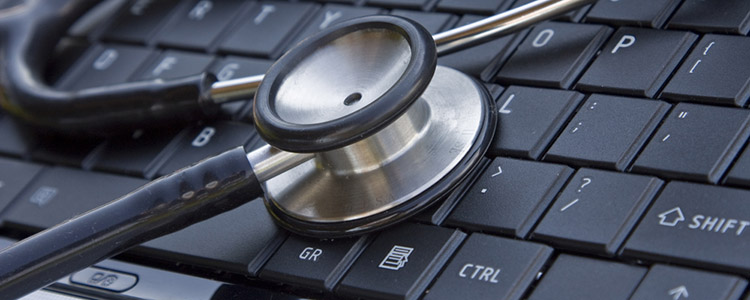 Image credit: Ph0neutria via
shutterstock
By: Benjamin Plackett,
Inside Science
(Inside Science) — Until last year, website designers had a choice of just 22 Internet domains to use as suffixes at the end of URLs, excluding country-specific ones. The familiar "dot-com" and "dot-org" hail from the Reagan era, and the trickle of new domains since has usually been met with much discussion and occasionally debate or even discontent.
But now, public health officials have brought up a potential concern: the use of the new "dot-health" suffix by groups that aren't medical experts.
Similar concerns are extended to other health-related domain names such as "dot-doctor," which are part of the nearly 600 new domains that the Internet Corporation for Assigned Names and Numbers (ICANN) will add by the end of 2015. The "dot-health" domain could be online within weeks.
The lack of regulation surrounding the use of "dot-health" has medical experts anxious enough to call for a ban on its use in an article published in the Globalization and Health journal last month.
ICANN has been accepting bids from companies to buy the rights to distribute and sell on the domain to whomever they please.
"It cost $185,000 just to apply and be considered," said Tim Mackey, study author and the director of the Global Health Policy Institute at the University of California, San Diego. "For nonprofit organizations that wasn't really a possibility, so it favored commercial interest over public interest."
The winning bid came from a private company called DotHealth LLC.
"They're drawing up the contract right now," said Mackey.
Mackey made the decision to campaign for the prohibition of "dot-health" at a convention.
"I met one of the applicants at a conference and I didn't feel that he was going to be the best steward of health information. His background was not in health."
The fact that anyone will be able use the domain, whether a respectable source of health information or not, is Mackey's main concern.
"One of the primary things we do when we're unwell is to search on Google," he said. "A lot of us are self-diagnosing from this and making medical decisions."
In an email, ICANN spokesperson Brad White told Inside Science that there are precautions in place to help address the concerns highlighted by Mackey. The new domain has "a number of safeguards built into its fabric," he said.
The safeguards White speaks of state that those wishing to use the new domain must "comply with all applicable laws." They are also required to implement sufficient security measures if they collect sensitive user information.
"We have methods in place in our contract to enforce the safeguards," White added.
These measures are not tailored to the "dot-health" domain. They also apply to "dot-loans," "dot-degree" and "dot-kids," among many others.
Mackey remains apprehensive that people may attach an unmerited perception of gravitas towards a web address with "dot-health" versus "dot-com" — he also thinks that Google may look at the domain and prioritize its relevance in web searches.
Other experts agree.
"It will make the content of these websites appear more credible," wrote Ziv Carmon, a professor of marketing at INSEAD business school in Singapore, in an email. Though he did add that Mackey's study lacked data on this alleged effect.
Whether consumers will be lulled into a false sense of security by the domain is questionable. In another study, published in the Journal of Medical Internet Research, Dr. Gunther Eysenbach from the Department of Health Policy, Management and Evaluation at the University of Toronto, conducted a survey of 1,000 participants to analyze this very question.
"Most people aren't even aware that 'dot-health' is going to come," said Eysenbach. Over 80 percent of the participants had never heard of the new domain. But when they were asked to rate the trustworthiness of "cancer.com" and "cancer.health," there was indeed a slight preference towards "dot-health," but not enough to claim any statistical significance.
The perception of greater trustworthiness towards the "dot-health" domain may be due to nothing more than chance. Nevertheless, Mackey is sure that this was the reason corporations were paying so much to bid.
"The whole reason that people are sinking money into these domains is because they think they can market themselves as more credulous."
Eysenbach, like Mackey, doesn't want to leave "dot-health" for the private sector to regulate by itself.
"We should use it to create a trusted domain space where people can be assured of quality information. It will be a lost opportunity for public health if we don't," he said.
Meanwhile, Mackey proposes the introduction of a vetting protocol for the "dot-health" and a host of other medically-related domain names. He suggests that a UN agency such as the World Health Organization would be well placed to do so.
"The WHO would make a better steward than private LLCs."
---
Benjamin Plackett is a science journalist based in New York City. He tweets at @BenjPlackett. Reprinted with permission from Inside Science, an editorially independent news product of the American Institute of Physics, a nonprofit organization dedicated to advancing, promoting and serving the physical sciences.