People with Crohn's disease, an immune disorder causing inflammation mainly in the intestines, have been forced to learn how to manage and understand their "gut."

This, together with the chronicity of the disease and the pretty serious medications often required, means sufferers are usually very open-minded about new approaches to relieve debilitating symptoms. While the exact cause of Crohn's is unknown, researchers believe there is a link to the "hygiene hypothesis," the notion that there is an increase in autoimmune disease incidence rates related to clean, modern Western society.
The hygiene hypothesis states that ridding our bodies of parasitic worms and beneficial bacteria has paved the way for higher autoimmune disease rates - and that by reintroducing microbes into our bodies, we can treat some of these patients. Doing this would, perhaps, help regulate the immune system, increase the diversity of microflora and potentially shift the pro-inflammatory state toward homeostasis. People without autoimmune diseases are known to have a much more diverse microbiome than those with disease, and certain markers of inflammation are increased in disease than without.
Trichuris suis ova (TSO) - pig whipworm eggs - is the first application of the hygiene hypothesis to be studied as an investigational treatment under FDA protocol. Studies have shown that once TSO has been swallowed by a patient, the eggs take up residence in the gut and regulate the immune system in a way that may reduce a range of symptoms of Crohn's and other diseases affecting the immune system. This natural approach was chosen based on the hygiene hypothesis, and the specific agent, TSO, is attractive since it is the pig whipworm and cannot grow into worms and colonize in a human. In fact, if treatment is stopped, within a very short period of time, the living organism can no longer be detected in the body.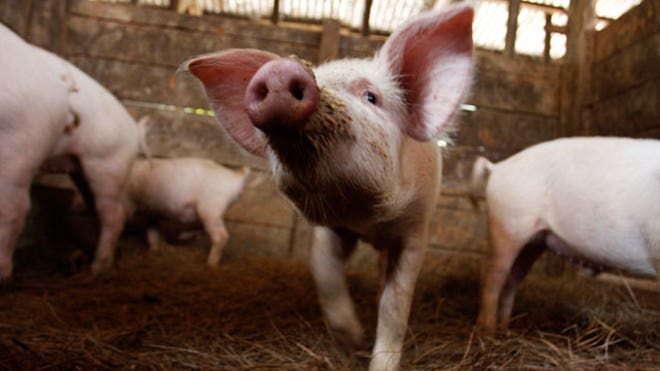 Credit: Reuters. Link: Fox.
The worms appear to produce three major effects on the immune system: they seem to trigger changes that activate and increase the number of regulatory T cells which dampen immune responses and curb autoimmunity; they seem to act on other cells to prevent the "switching on" of dangerous effector T cells, which customarily results in inflammation and disease; and they seem to alter the makeup of intestinal flora—they foster the growth of gut microorganisms customarily considered "probiotic," which assist in maintaining intestinal health.
At Coronado Biosciences, where I am Executive Vice President of Scientific Affairs, we have been pursuing research using TSO, but it isn't just research to me — I have a personal interest too. At 16, I was a rising star on the international tennis circuit. Playing for the Swedish National team, I was competing almost professionally. Then Type 1 diabetes came calling, derailing my tennis career and changing the course of my life. Today, armed with both M.D., and Ph.D. degrees, a strong background in business, a new kidney from my father and a transplanted pancreas, I am diabetes-free and determined to help others either cope with or avoid what I could not: the unexplained onset and destructive power of autoimmune diseases.
I'm proud, therefore, that Coronado Biosciences recently completed enrollment of our Phase 2 study of TSO in Crohn's disease. The trial, known as TRUST-I, has enrolled 250 patients between the ages of 18 to 65 with moderately to severely active Crohn's.

The final number of patients surpassed the target enrollment of 220 patients to accommodate individuals in the screening process when the trial's enrollment goal was achieved. Patients enrolled into the study are receiving either 7500 TSO or placebo once every two weeks, for 12 weeks, followed by another 12 weeks of open-label treatment with TSO. We are encouraged by the fact that many patients have elected to enter the open-label portion of the study.

Investigators are measuring the response rate according to the Crohn's Disease Activity Index (CDAI), an established and well-accepted grading tool for clinical trials in this disease. We expect to release results in the fourth quarter of 2013.
The interest from the medical community to study TSO in a number of autoimmune diseases has been impressive. Coronado has received and continues to receive requests and proposals for clinical trials from leading clinicians and researchers around the world. If additional studies prove promising, it could portend a new era for patients of Crohn's and other autoimmune diseases.
Karin Hehenberger, M.D., Ph.D. is Executive Vice President of Scientific Affairs at Coronado Biosciences, a biopharmaceutical company focused on the development of novel immunotherapy biologic agents for the treatment of autoimmune diseases and cancer.