New scientific evidence is helping to build a compelling case for oncolytic viruses as a first-line and adjunctive treatment for many cancers.
Reovirus, a non-pathogenic virus under development at Calgary, Alberta-based Oncolytics Biotech, has shown powerful anti-cancer activity against cultured tumor cells, in animal models, and in human clinical trials. Oncolytics' proprietary reovirus formulation, Reolysin®, is active against numerous cancers, including intractable sarcomas and melanomas.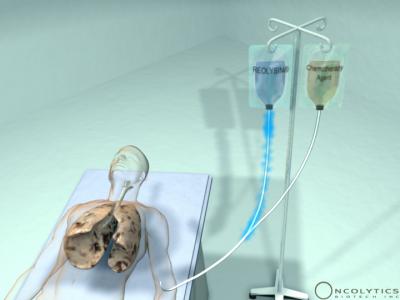 Recent studies also indicate that reoviruses work synergistically with standard anti-cancer drugs, providing significantly stronger responses than either agent alone. Credit: Oncolytic Biotech
Recent studies also indicate that Reolysin works synergistically with standard anti-cancer drugs, providing significantly stronger responses than either agent alone.
In addition, other studies completed in the past year have shown Reolysin has the ability to prime patients' immune systems against their particular cancer, leading to additional cancer cell killing. It is through this second "inflammatory" mechanism that researchers hope Reolysin will bring about long-term remissions of once-untreatable cancers.
At the Fourth International Conference on Oncolytic Viruses as Cancer Therapeutics in March 2007 in Scottsdale, Arizona, several presentations focused on reovirus efficacy alone or in combination with standard chemotherapies.
In one study, investigators examined the tumor-killing ability of reovirus plus cisplatin, a standard chemotherapy agent, in a mouse melanoma model that included both cultured cells and live animals. The results of the preclinical study showed that the combination of reovirus and cisplatin was significantly more effective than cisplatin or reovirus alone at killing melanoma cancer cells in a mouse model. The investigators intend to explore the mechanism of this promising synergistic action in further detail in future preclinical work.
Another presentation at the Arizona conference reported on the use of Reolysin plus the cancer drug cyclophosphamide in an animal model of melanoma. When treated with both agents, test animals experienced enhanced tumor regression compared with either agent alone, and without additional toxicity. Oncolytics has permission from the U.K. regulatory authorities to test Reolysin in three separate human trials in combination with the cancer drugs gemcitabine, paclitaxel/carboplatin and docetaxel.
Perhaps the most exciting findings of Reolysin combination therapy were reported at the American Association for Cancer Research Annual Meeting in April, 2007. In mice transplanted with a human colon cancer, Reolysin plus gemcitabine completely eradicated the tumors in four of five test animals. It is rare to see the virtual elimination of tumours as well as the long-lasting therapeutic effect that was observed in this study.
"Combination therapy results for reovirus in animals are particularly encouraging because they suggest that Reolysin can improve the anti-tumor activity of standard chemotherapy agents in advanced cancer patients without causing additional toxicity," said Dr. Karl Mettinger, Chief Medical Officer of Oncolytics.
Physicians often prefer to treat cancer with multiple agents, but toxicity limits these approaches. Since reovirus typically is not pathogenic in humans nor associated with severe toxicity in clinical studies, its co-administration is not expected to increase a treatment's overall toxicity.
Dual Mechanism
Reovirus works by entering and replicating within cancer cells containing an activated ras pathway, a mutation present in about two-thirds of all human cancers. Reovirus enters a cancer cell, makes thousands of copies of itself, and then causes the cell to burst, which releases viruses that infect and kill adjacent cancer cells. Normal cells are not harmed.
In addition to killing cancer cells directly, reovirus is believed to activate an anti-tumor immune response through the body's natural killer cells and T cells. Through this mechanism, which persists for weeks or months, the body continues to fight off cancer long after the virus clears from the body.
Future directions
On April 11, 2007, Oncolytics announced it had initiated a Phase II trial to evaluate intravenous administration of Reolysin in patients with sarcomas that have metastasized to the lung. For patients with deadly soft tissue sarcoma, the lungs are the most common site of metastatic disease. To date, surgery has been the only effective therapy for metastatic sarcoma.
The multi-center, Phase II study follows successful completion of systemic administration trials with Reolysin in the U.K. and the U.S. This will be the second of several Phase II trials Oncolytics plans for 2007. The Company also has a collaborative agreement with the U.S. National Cancer Institute to conduct multiple clinical trials with Reolysin which are expected to begin in 2007, including a Phase II melanoma trial and a Phase I/II ovarian cancer trial.
"It is hoped that the trials will clearly show that Reolysin alone or in combination with either radiation or chemotherapy can stop or reverse the growth of advanced cancers without adding harmful side effects," said Dr. Mettinger.
Source: Oncolytics Biotech Inc..