"Terra Firma -- A Journey from Migrant Farm Labor to Neurosurgery" chronicles Johns Hopkins neurosurgeon Alfredo Quinones' amazing journey from illegal immigrant, migrant farm worker to prominent Johns Hopkins neurosurgeon and brain cancer researcher. The compelling story will appear in the August 9 issue of the New England Journal of Medicine.
Quinones' remarkable odyssey began at a small family-owned gas station in a poor rural Mexican town. With more faith in his abilities than in his opportunities in his village, Quinones entered the United States illegally with almost no money or knowledge of English. Once inside the country, he managed to find employment pulling weeds in the cotton and tomato fields outside Fresno, Calif., and working as a welder for the railroads.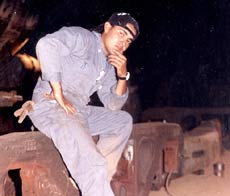 Working as a welder in 1989
Still hungry for a better life, he started taking classes in a local community college, which led eventually to degrees at the University of California, Berkley and Harvard Medical School. Quinones finally joined Johns Hopkins, where he is a world-famous neurosurgeon and brain cancer researcher.
Hear an interview with Dr. Quinones below: