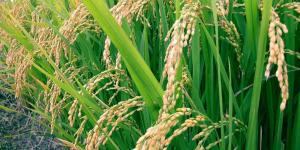 Credit: University of Arizona
Researchers have sequenced the complete genome of Oryza glaberrima (African rice), which will enhance scientists' and agriculturalists' understanding of the growing patterns of African rice, as well as enable the development of new rice varieties that are better able to cope with increasing environmental stressors to help solve global hunger challenges.
In analyzing the 33,000 genes that make up the African rice genome, researchers discovered that during the process of domestication, Africans and Asians independently selected for many of the same genetic traits in the two species, such as higher nutrition and traits that make harvesting the crop easier.
"Rice feeds half the world, making it the most important food crop," said Rod A. Wing, director of the Arizona Genomics Institute at the University of Arizona, who led the effort. "Rice will play a key role in helping to solve what we call the 9 billion-people question."
The 9 billion-people question refers to predictions that the world's population will increase to more than 9 billion people by the year 2050 and concerns that have existed since the 1960s that food will become a luxury for the rich. America alone can feed the world but not at a reasonable cost so the question lies in how to scientifically optimize plants so local people can control their own food.
With the completely sequenced African rice genome, scientists and agriculturalists can search for ways to cross Asian and African species to develop new varieties of rice with the high-yield traits of Asian rice and the hardiness of African rice.
"African rice is once more at the forefront of cultivation strategies that aim to confront climate change and food availability challenges," said Judith Carney, a professor of geography at the University of California, Berkeley, and co-author of the paper.
"We're merging disciplines to solve the 9 billion-people question," Wing said.
Although it is currently cultivated in only a handful of locations around the world, African rice is hardier and more resistant to environmental stress in West African environments than Asian varieties, Wing said.
African rice already has been crossed with Asian rice to produce new varieties under a group known as NERICA, which stands for New Rice for Africa.
The African rice genome is especially important because many of the genes code for traits that make African rice resistant to environmental stress, such as long periods of drought, high salinity in the soils and flooding.
"Now that we have a precise knowledge of the genome we can identify these traits more easily and move genes more rapidly through conventional breeding methods, or through genetic modification techniques," noted Wing. "The idea is to create a super-rice that will be higher yielding but will have less of an environmental impact – such as varieties that require less water, fertilizer and pesticides."
Hardy, high-yield crops will become increasingly vital for human survival as the world faces the environmental effects of climate change and an ever-growing global population, he added.
Much of the evolutionary analysis of the genome was performed by Muhua Wang, a University of Arizona plant sciences doctoral candidate, and by Carlos Machado of the University of Maryland. Yeisoo Yu, a research associate professor in Wing's research group at the Arizona Genomics Institute, led the sequencing effort.
The sequenced genome helps resolve questions about whether African rice originally was domesticated in one region or in several locations across Africa. By comparing the genome with what is known about the genetic structure of wild varieties, Wing and his team found that it's most similar to a population of wild rice species found in one location along the Niger River in Mali. "Our data supports the hypothesis that the domestication of African rice was centric in this region of Africa," Wing said.
From 1998 to 2005, Wing led the U.S. effort to help sequence the genome of Asian rice, which is the only other domesticated rice species. Those results were published in the journal Nature in 2005, and have since enabled the discovery of hundreds of agriculturally important genes, including genes that code for faster breeding cycles and the ability for the plant to survive for up to two weeks underwater during periods of flooding.
Wing's research group is now focusing on sequencing and analyzing the genomes of the wild relatives of African and Asian rice. "By understanding the entire genus at a genome level we have a whole new pool of genetic variation that can be used to combat pests and plant pathogens," Wing explained.
One example, he said, would be adding disease resistance genes from all of the wild rice varieties to a species of cultivated rice, creating a new super-crop that is resistant to diseases and pests.
Wing is also working with Quifa Zhang from Huazhong Agricultural University in Wuhan, China, to create a set of super-crop science and technology centers around the world, where focused and coordinated efforts could help solve the 9 billion-people question. "We really only have about 25 years to solve this problem, and if we're always competing with each other it's not going to work," he said.
"After decades of promoting high-yielding Asian varieties, the emphasis now is on developing types that combine the former's higher yields with glaberrima's tolerance of environmental stress," Carney noted.
Article: "The genome sequence of African rice (
Oryza glaberrima
) and evidence for independent domestication"
Nature Genetics
. Source:
University of Arizona