As millions of visually impaired people will tell you, people with full sight often make incorrect assumptions about their capabilities. It's not mean, it's benevolent, but people are uncomfortable with not knowing what is proper decorum and some can make hilarious errors.
"If you have a guide dog you can often find people talk to the dog but ignore the owner. Or when crossing the road a sighted person will grab their arm and rush them across," says final year digital design student Harpreet Hakemzadeh from Brunel University London, who has produced a four minute animated short film designed to make both sides more comfortable. "The proper approach is to first ask the individual whether they require any assistance. Most people want to be helpful but don't communicate because they feel uncomfortable. But the issue is just a lack of understanding and awareness which my project addresses directly."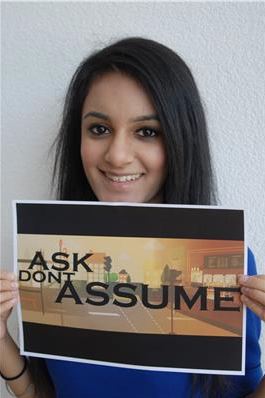 Harpreet Hakemzadeh. Credit: Brunel University
Royal London Society for the Blind Chief Executive Tom Pey, said, "Vision impairment can make getting out and about hugely disconcerting and as we all know, the way that other people behave towards you has the power to make or break your day.
"Getting dragged across the road, or someone asking my dog Milo questions he clearly can't answer, puts a dent in my day, just like those pushy commuters on the Northern Line in the morning. This is a great initiative which has the power to increase understanding of vision impaired people and our capabilities. People with disabilities are just that, we are people first. And any way of breaking down those barriers is very welcome."