The belief by Western elites that ancient people lived in some sort of harmony with the land, a belief popular for the last century, has been punctured again.
Instead, evolution continues to rule - rather than some sort of harmonic balance only the species that get to an area and are fittest to survive actually do. That is what natural really is.
The latest study to drive home that point is the 500-pound flightless bird known as Genyornis newtoni. G. newtoni was nearly 7 feet tall and appears to have lived in much of Australia prior to the establishment of humans on the continent 50,000 years ago. But they were not to last, according to evidence consists of diagnostic burn patterns on Genyornis eggshell fragments that indicate hunterer-gatherer humans were collecting and cooking its eggs, thereby reducing the birds' reproductive success. It was survival of the fitter, and the bird was not to last. Nature remains a bitch.
Genyornis roamed the Australian outback with an astonishing menagerie of other now-extinct megafauna that included a 1,000-pound kangaroo, a 2-ton wombat, a 25-foot-long-lizard, a 300-pound marsupial lion and a Volkswagen-sized tortoise. More than 85 percent of Australia's mammals, birds and reptiles weighing over 100 pounds went extinct shortly after the arrival of the first humans. The Genyornis eggs are thought to have been roughly the size of a cantaloupe and weighed about 3.5 pounds.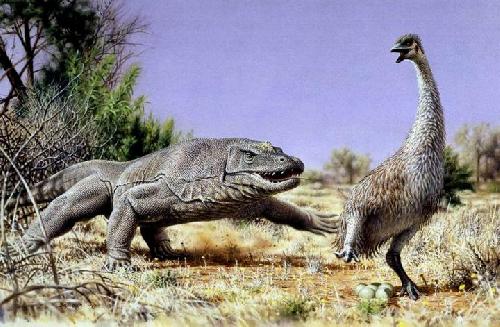 This evidence of humans competing with and outlasting now-extinct Australian megafauna was documented at more than 200 sites across the continent."
In analyzing unburned Genyornis eggshells from more than 2,000 localities across Australia, primarily from sand dunes where the ancient birds nested, several dating methods helped researchers determine that none were younger than about 45,000 years old. Burned eggshell fragments from more than 200 of those sites, some only partially blackened, suggest pieces were exposed to a wide range of temperatures.
Optically stimulated luminescence dating, a method used to determine when quartz grains enclosing the eggshells were last exposed to sunlight, limits the time range of burned Genyornis eggshell to between 54,000 and 44,000 years ago. Radiocarbon dating indicated the burnt eggshell was no younger than about 47,000 years old.
The blackened fragments were likely burned in transient, human fires -- presumably to cook the eggs -- rather than in wildfires.
Amino acids -- the building blocks of proteins -decompose in a predictable fashion inside eggshells over time. In eggshell fragments burned at one end but not the other, there is a tell-tale "gradient" from total amino acid decomposition to minimal amino acid decomposition, he said. Such a gradient could only be produced by a localized heat source, likely an ember, and not from the sustained high heat produced regularly by wildfires on the continent both in the distant past and today.
Many of the burnt Genyornis eggshell fragments were in tight clusters less than 10 feet in diameter, with no other eggshell fragments nearby. Some individual fragments from the same clusters had heat gradient differences of nearly 1,000 degrees Fahrenheit, conditions virtually impossible to reproduce with natural wildfires there.
Another line of evidence for early human predation on Genyornis eggs is the presence of ancient, burned eggshells of emus -- flightless birds weighing only about 100 pounds and which still exist in Australia today -- in the sand dunes. Emu eggshells exhibiting burn patterns similar to Genyornis eggshells first appear on the landscape about 50,000 years ago, signaling they most likely were scorched after humans arrived in Australia, and are found fairly consistently to modern times.
A paper on the subject appears online Jan. 29, in Nature Communications.