NASA's Lunar Atmosphere and Dust Environment Explorer (LADEE) was launched in early September and arrived in orbit around the Moon in October.
Its mission is to probe the Moon's environment but it's also carrying an interesting piece of technology - a new laser terminal. ESA's Optical Ground Station in Spain's Canary Islands was upgraded with an advanced laser terminal that can communicate with LADEE and they report that they have received signals from LADEE 400,000 KM away - at a rate many times faster than possible with traditional radio waves - which means 3 stations on Earth are using next-generation space communications.
As we seek Big Data from future space missions, laser communications at near-infrared wavelengths will be key. Laser communication units are lighter and smaller than today's onboard radio systems, which means lower mission costs and opportunities for new science payloads.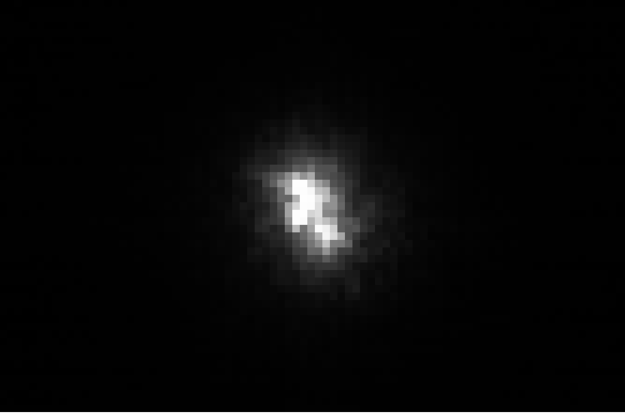 The first LADEE laser signal was acquired by ESA's Optical ground Station, Tenerife, Spain, at 06:36 GMT on 26 October 2013. The light beam from the Moon was transmitted at 1550 nm wavelength. Credit: ESA.
During the coming weeks, ESA engineers at Tenerife will test uplink communications at 20 Mbit/s and obtain accurate 'time-of-travel' measurements to be used for calculating the spacecraft's orbit.
Using special equipment from the DLR German Aerospace Center's Institute for Communication and Navigation, the team will monitor atmospheric conditions during transmission and learn how to improve performance even further.
"We've already received data at up to 40 Mbit/s – several times faster than a typical home broadband connection," says Zoran Sodnik, ESA's project manager for the laser effort.
"We are already confident that the test campaign will confirm the practicality of high-data-rate optical links for future missions," says ESA's Klaus-Juergen Schulz, responsible for ground station systems at the European Space Operations Centre, Darmstadt, Germany.
In addition to the one ESA and two NASA ground stations, the LLCD project involves the Lincoln Laboratory of the Massachusetts Institute of Technology (MIT), USA, NASA's Goddard Space Flight Center, NASA's LADEE Project at NASA Ames Research Centre, and ESOC, ESA's European Space Operation Centre, Darmstadt.