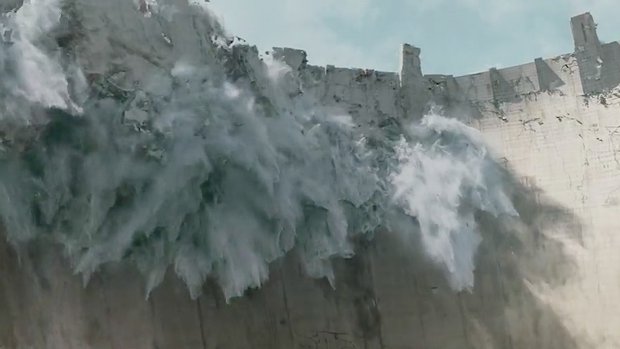 The new disaster movie San Andreas draws on science fact - that earthquakes are a reality - and turns it into an action movie by creating a domino effect and pitting Duane "The Rock" Johnson against them.

Scientists are inclined to like that their field gets in the popular consciousness by being featured in film, unless it goes too far - rampant biological movie plots have led to the anti-vaccine and anti-GMO sect of doomsday prophecy, meaning scientists now have to spend a lot of time undoing what environmental disaster fiction has created.

Artistic license is fine, of course. For the film, a rupture of the entire San Andreas Fault, which extends from near the Mexican border to almost Oregon, occurs, and while nothing is truly impossible past records of both historic and paleo-earthquakes show it has never happened and, if it ever does, it will be closer to magnitude 8.3 than 9.6 - a big difference.

However, geologists don't want the wacky fringe to start trumping up earthquake hysteria, as has happened with progressive claims about food and medicine, and they don't want earthquakes to become political, as happened in Italy when geologists did not predict an earthquake, so Graham Kent, director of the University of Nevada, Reno's Nevada Seismological Laboratory, has separated fact from fiction by outlining five truths about the depictions in San Andreas:
The Trigger: Can a large earthquake in Nevada trigger the San Andreas Fault or knock down Hoover Dam like in the movie? Western Nevada and Eastern California occupy the Walker Lane that has some fault lines that are capable of up to about magnitude 7.5 quakes (just not near Hoover Dam). Larger Nevada earthquakes can trigger other regional earthquakes as happened, in reverse, in 1992 when the magnitude 7.3 Landers quake in eastern California likely triggered the magnitude 5.7 Little Skull Mountain earthquake north of Las Vegas about a day later. But the San Andreas Fault? Not likely.

The Tsunami: Will a towering earthquake-generated tsunami inundate California? Most of the San Andreas Fault is landlocked and when it heads offshore, it occupies shallow waters. In the 1906 earthquake a less than a half-meter wave was generated. Strong shaking could trigger landslides offshore that could spawn a tsunami, which appears to have happened after an 1812 earthquake near Santa Barbara, which resulted in a tsunami wave several meters in height. In either case, not a towering mega-tsunami that inundates coastlines and upends a container ship into a bridge.

The Crevasse: Most large earthquakes with ground rupture have associated tension cracks that can, at times, get large enough to place an arm into, a far cry from the chasm seen in San Andreas. The San Andreas Fault will not swallow up cars, people or buildings.

East Coast Shakeup: Will the East Coast feel a West Coast earthquake as the movie San Andreas portrays? The East Coast gets to sit out this event in terms of ground shaking from a large West Coast earthquake. But the "bill" from the next major San Andreas quake will shake up politicians as death tolls rise and damages estimated at $200 billion or more from a real major earthquake begin to roll in.

Nothing Left Standing: Will California's skyscrapers collapse? Ian Buckle, a civil engineering professor in the University's College of Engineering, shakes large structures for a living with huge shake tables in the world renowned Earthquake Engineering Laboratory. "The tall modern buildings, like the 50-story buildings built of steel, should do quite well," Buckle said. "They will give a scary ride, they'll move a lot but they should not collapse." Here's a prediction from Kent: most fatalities, injuries and damage with future U.S. earthquakes will be focused on unreinforced masonry (URMs) buildings and soft-story structures. A far cry from scenes in the movie where cities are leveled.
"It was good to see the message of 'drop, cover and hold-on,' which we've been promoting for several years through the Great Nevada ShakeOut," Kent said. The Great ShakeOut is a national public earthquake drill that provides preparedness information and an opportunity to participate in the world's largest earthquake drill.
For more information on earthquake research, go to http://www.seismo.unr.edu/ and http://www.unr.edu/cee/earthquake-structural/index.html. Top image credit: